36 weeks? How is that even POSSIBLE! There are definitely days when pregnancy seems to drag on forever and ever and it seems there is no end in sight for all the aches and pains and swollen everything. Then there are days like this when I'm sitting here wondering when and how we got here! We are super close to meeting our third little blissful bundle and you want the truth?
I am feeling SO incredibly anxious about the gender!
The first time around, it was a breeze to wait. This time…I can hardly stand the anticipation!! Will I continue on as a #boymom /Queen B of this house or will I gain a little mini me? Someone to help even out the playing field around here!
For my 36 Week Bumpdate, I thought I'd give you a quick snapshot of where things are at with the house, the nursery, the blog and the BUMP, of course 😉
THE NURSERY REVEAL RECAP
For those of you just joining me here at This is our Bliss, then welcome! In preparation for baby #3, I decided to tackle transforming our littlest's room into a nursery as part of the Spring 2018 One Room Challenge which basically consumed me during the months of April and May. Lots of planning, prepping, designing and working and we whipped this little space into a room I'm so proud of and truly excited to bring our little one home to.
Here are a few shots of the closet side of our recently finished Sophisticated Neutral Nursery…
And I can't wait to get some more clothes hung up on these cutie hangers. I just don't know if I'll be pulling out the baby boy clothing bins or buying a whole new wardrobe filled with all the pinks!
Here is the crib side…
I love how the wallpaper accent wall turned out, as well as the sweet & simple gallery wall with the ultrasound picture in the corner. Pretty soon I can start popping newborn photos into frames around here!
And the spot, I'll be spending the majority of my nights? Right here in this comfy nursery rocker!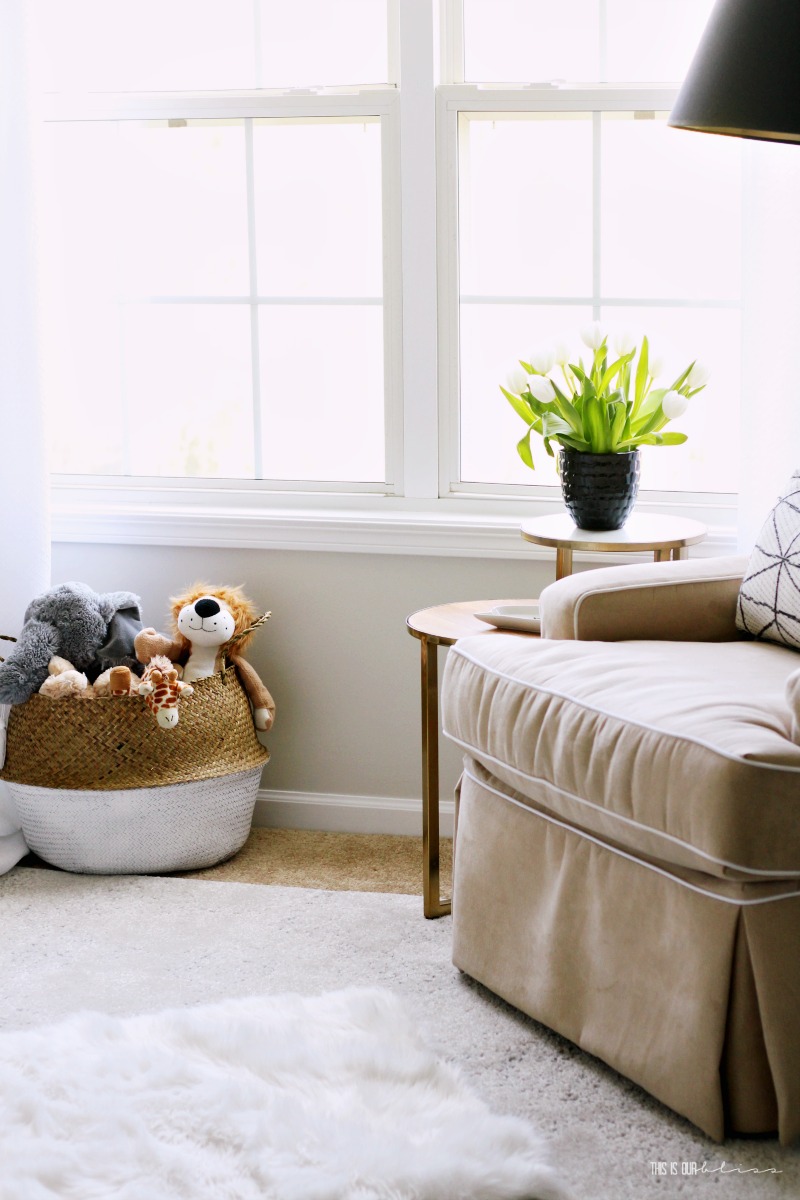 orrrrr hovering over the changing table at all hours of the night! We'll be taking turns on this duty. I can assure you that!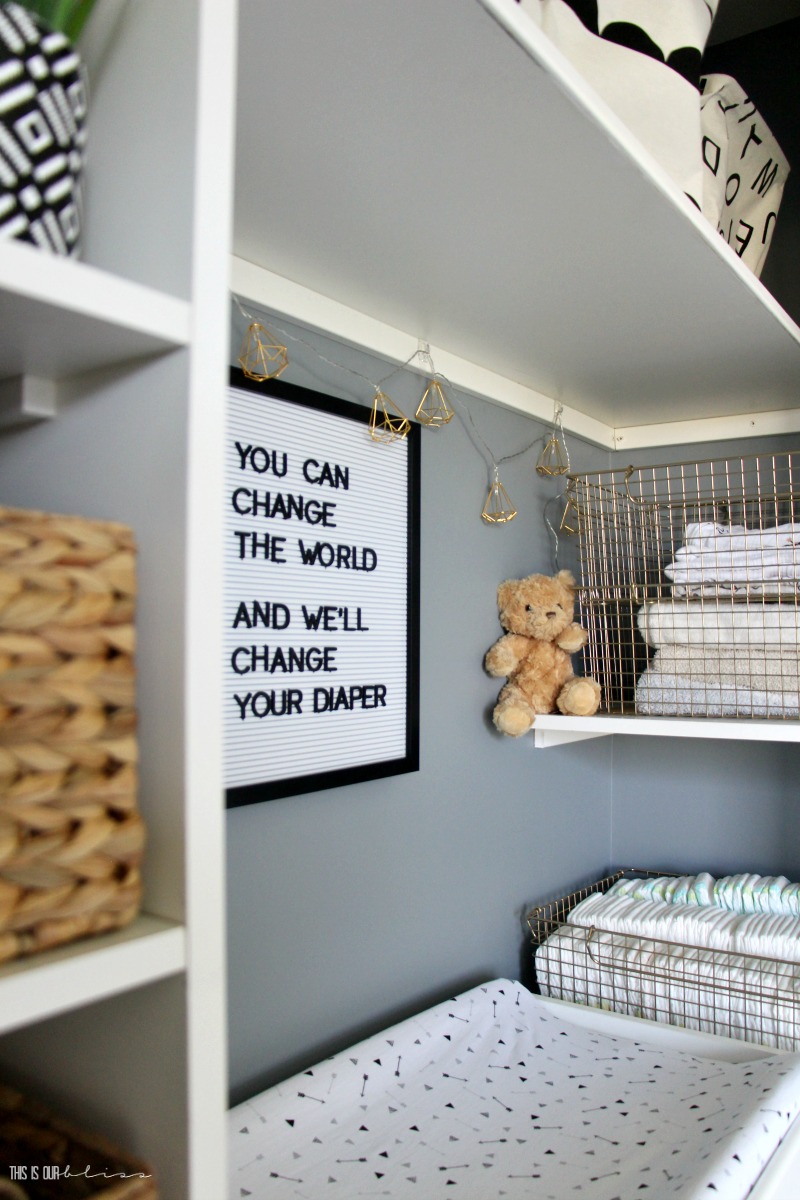 Baby, your room is ready and waiting for you!
THE REST OF THE HOUSE
MASTER BEDROOM
Since the baby will be spending most of the summer's nights in our room in the bassinet, I'll probably be spending some time in here getting things ready and making room. We have a bench under the windows wall in our room that is mainly used to house clothes that I'm too lazy to hang up or put away. Once I clear the bench, I think it's going right into my car to donate and then we'll have the perfect spot for the bassinet to go. After the baby is done in our room, you can bet I'll be on the hunt for a fab new bench to reclaim it's spot. I'll keep you in the loop on my search and then hopefully be able to show you the rest of our Master Bedroom.
Since up until now, you've really only seen the accent wall, bed and nightstands. #badblogger
THE LAUNDRY ROOM
I mentioned this space in my 2018 Master Project List and even shared the Laundry Room mood board of the direction I was hoping to go earlier this year as well. We've made some progress on the checklist and when my mom was in town a couple weeks ago, she helped me completely empty the room by sorting and organizing everything that I wanted to keep into baskets to store on top of the laundry room cabinets and the rest…well, we made 5 or 6 trips to the consignment shop and goodwill with everything else. After the laundry room and basement flooded last year, this room became dumping grounds for things that did not have a proper home. Please tell me you have a room like that in your house?! We all need that spot, but I was tired of it happening in the laundry room!
THE BOYS' ROOM
Yes, they're going to be sharing! While we haven't quite figured out the bunk bed / loft bed situation yet, the littlest has been alternating between sleeping in the toddler bed in the nursery and having a slumber party in a sleeping bag in the biggest's room. Now that summer is here and we can be a little more lax about the bedtime and nightly routine, we've let them start getting used to sharing a room. Let's just say sometimes are wonderful and we love listening to their sweet conversations outside the door, but then other nights it's a complete nightmare. Surely they'll get the hang of it soon once the novelty wears off!
My mom also helped me clean out both boys' dressers which are now both in the soon-to-be shared room and get rid of all of the miscellaneous junk that accumulates with kids! Broken toys, random legos, worn out books, dried out slime, you know, that stuff. The room is decluttered and feels so much brighter and bigger now! Stay tuned for updates on the bunk bed / loft bed situation. We'll be figuring this out later this summer!
That's really it for recent projects around here. I'm sure things will pick back up again after the baby comes. I just simply can't help myself!
THE 36 WEEK BUMP, ETC.
I've been nesting like a champ…cleaning all the things all the time and have started to work on baby bedding, burp rag and blanket laundry. Getting everything fresh and clean for #3. While I've been nesting during the day, the nights are a different story. I'm out of energy by 5 pm, so bedtime usually comes right after the boys go down by 8ish. Feet up, ice cream in hand and Netflix on TV. We've been binging Queen of the South for the last few weeks and are all caught up now ready for Season 3 to start on USA next week. I don't think my current carton of ice cream will make it until next week [which is Trader Joe's Speculoos cookie butter ice cream and is life, btw] but I've got a few other flavor cravings that will make their round here soon.
Oh and one other confession from a very pregnant person? Since I haven't been shopping for clothes these last 9 months, I sure have added to my shoe collection!! Shhh don't tell T. I figure if I am going to have cankles and swollen toes, they might as well be inside of a cute shoe! Give me all the slides and mules! Maybe I'll share some of my recent purchases on my instagram stories this weekend. There are quite a few new ones to debut 😉
I shared our Maternity Photoshoot pics on the blog last month, but since I was only a little more than 31 weeks, I wanted a bump pic a little further along so I enlisted the help of my 5 year old.
He snapped this on my phone and it gives me all the feels.
THE BLOG
June was busy getting my Summer Mantel and Summer Dining Room & Tropical Tablescape ready to share. And I had an absolute BALL making that Pineapple-filled Ice Ring Wine Chiller you saw on the table! But now, things are definitely going to start slowing down here on the blog as I shift my focus to prepping for baby, my delivery and adjusting to life with a newborn again, but I do have a few more scheduled commitments so you'll still be hearing from me over the next month or so. Our days as a family of 4 are numbered and I can't wait for this next chapter as a family of 5 that is so quickly approaching. For those of you that have been along for the ride since I first launched the blog when I was 7 months pregnant with our second, I'm looking forward to continuing to share our journey with you!
Thanks for always being here! Have a wonderful weekend!! Hope your summer is going great!