Even though this is my third time participating in the One Room Challenge, when I decide to jump in I seem to forget how much WORK it is! I mean, I'm sure you can imagine the complete and utter craziness that goes on behind the scenes when trying to completely makeover an entire room in less than 6 weeks. And if you can't envision this chaos, then trust me. It is NUTS! There are tears shed and this time around, they were a mix of stressful tears and tears of joy! But alas, our Sophisticated Neutral Nursery Reveal is here and just like any room reveal day, it feels soooo good to be done.
This room, however, probably took me on more of an emotional roller coaster ride because, well, we were working on this room makeover in preparation for our soon-to-be little one! Baby #3 will be making his or her arrival in less than 2 months and his or her new digs will be ready and waiting. For those of you who have been with me these past 6 weeks, then I'm sure you are just as ready to see the AFTER pics as I am ready to share them!
If you are stopping by This is our Bliss for the first time today, then welcome! I started on the Spring 2018 ORC journey [thanks to Calling it Home for hosting the challenge!] at the beginning of April when I posted the before photos and my nursery mood board during week 1.
Here's a quick look back at where we started.
SOPHISTICATED NEUTRAL NURSERY BEFORE PHOTOS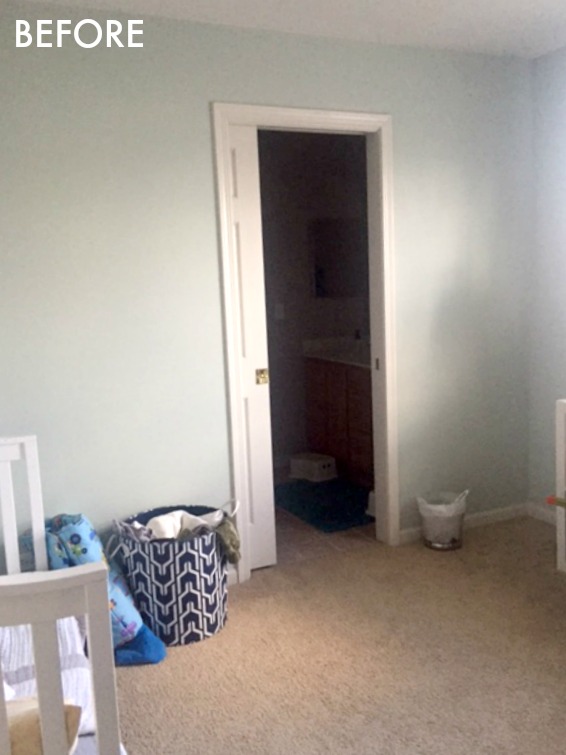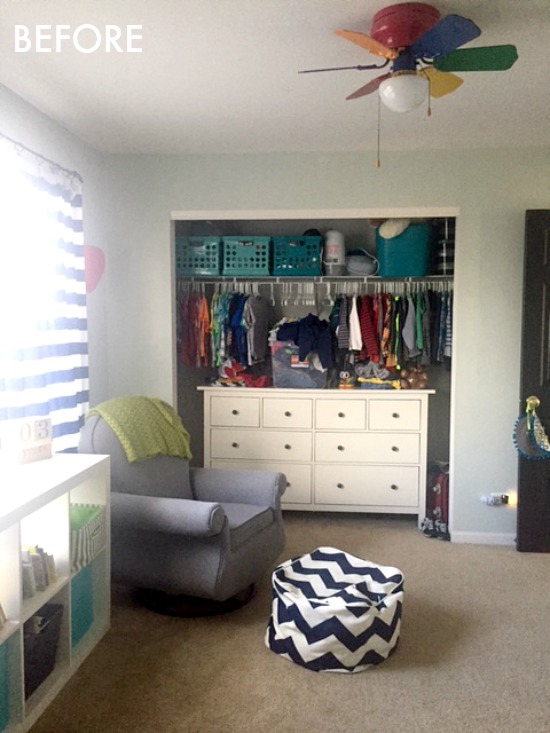 Yikes. Things could be looking better, right?! If you recall, I told you how when we moved in nearly 2 years ago, I literally dropped everything from the littlest's old nursery in here and ran. Notice above, a faint resemblance to the once cute and polished teal, lime green and navy blue color scheme of the old room? Well it had seen better days in here…
Nothing was hung up on the walls, the closet had a dresser planted right in the middle and we made do with the existing wire shelf and hanging rod.
The room needed some help, but I didn't feel like doing much since I knew if we got pregnant with a third, this would be the baby's room!
And my Nursery Mood Board…
When starting a space, I always dream up what I want it to look like in the end. I create a vision in my head, work really hard, have a few panic attacks, text my friend, Heather of Southern State of Mind with each and every question or roadblock that comes my way, solicit help from T and anyone else who is willing to help [thanks to my FIL this time around for his amazing help with the DIY closet] and then cross my fingers it all comes together. Well, my friends, it DID!!
I am completely and utterly thrilled with how I somehow managed to bring my vision to life in such a wee amount of time! Come on inside my new favorite room in the house [I know I say that each time I finish a space, but who can blame me?!]
I formally introduce you to The [ sweet and] Sophisticated Neutral Nursery…
SOPHISTICATED NEUTRAL NURSERY: THE AFTER
[*Affiliate links were used in this post. If you make purchase after clicking a link, I may earn a small commission at no additional cost to you!]
CRIB ACCENT WALL
I first shared a sneak peek of this AH-mazing wallpaper with you during my week 3 update. I'm still as giddy over this fresh and fun, removable wallpaper as I was when we first put it up. It makes a statement without being too loud or too bold.
But then again, what is wallpaper for if not to make some sort of a WOW statement!?
It is a fun play on a classic stripe since its more of a wavy lined pattern. You know me, I love to mix pattern, so I felt this wallpaper was a good choice since a "stripe" works so well with most prints.
We hung this small round wooden mirror over the crib to bring in some natural elements. I love the wood tones in this room paired with all of the black, white and other neutral colors. In fact, this is the same mirror I used in our recent Basement Guest Bathroom Refresh – can't beat a $39 mirror! And it's hard to see, but it has a cool metal strip that wraps around the outer edge of the wood. I thought about painting it black or gold, but left it as-is. Just one extra thing that wasn't necessary!
When I first spotted the Emily & Merritt Collection at PB Kids, I was in love. I knew the Rock and Roar crib sheet was the perfect scale and pattern to go in here. I didn't buy anything else from the collection, but I sure love it all — Classic animal print and pattern play at its finest!
It's just too cute!!
GALLERY WALL
Oh, the sweet & simple gallery wall. It truly makes my heart flutter. I selected two art prints from Minted and then added the ultrasound picture to the bottom right corner. One of my fave nooks in here for sure.
BOOKCASE
We've had this IKEA cubby / bookcase for what feels like ages, but it continues to work in so many spaces for us. We previously had it laying down horizontally, but in order to grab up some much needed additional floor space, we decided to mount it upright.
I then of course, had way too much fun styling the little nooks and crannies!
We have so many books between the biggest's [soon to be shared boys room] and the playroom, so I was able to quickly round-up some of our favorite baby books to keep in the nursery. I also came across that little metal figurine on the top that I'd picked up while thrifting at Goodwill awhile back. I'm pretty sure I was originally going to use it in the boys' room to symbolize "brothers" but then decided it could go in here. Sort of like the big brothers keeping watch over their little baby brother or sister. Oh, the thought of these boys loving on their soon-to-be sibling is more than my heart can handle. Already!!
I filled the other cubbies up with baby trinkets, baby teething beads, planter pots, storage bins and even T's old piggy bank from when he was a baby. I still have mine, too, but it's in the boys' room right now and is an actual pig with flowers all over it. Not quite as gender neutral as the cute little teddy bear.
With 8 cubes to fill there was plenty of room for knick knacks [you know I can't help myself!], while still allowing for four bins at the bottom to use for storage. Stylish and functional – win win!!
WINDOW TREATMENTS + ROD
These beautiful wood & brass curtain rods were a sweet gift from Heather. What else does a blogger bestie get her fellow home decor lover as a baby gift while working on a 6 week challenge together? – something for the baby's room, of course! Aren't they perfect?!
The white curtain panels are from HomeGoods and the gold curtain ring clips were originally used in our old Master Bedroom. Love when I keep things around and then can actually find them in time to use them when I need them!
THE RUGS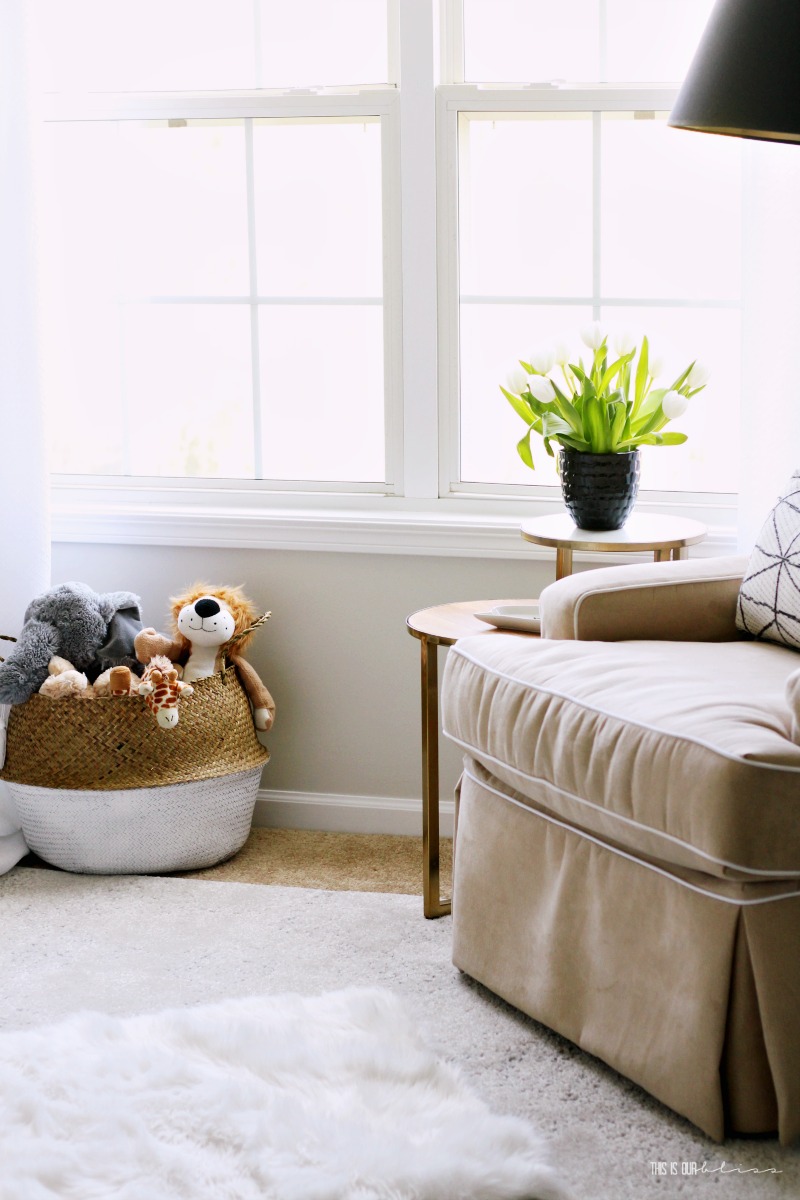 The nursery is carpeted as are all the rest of the bedrooms, but I still wanted to add a rug [or 2!] for comfort and texture. It's hard to see, but the bottom one is this beautiful ivory rug with varying shades of grayish triangles randomly sprinkled around. I decided to layer a small faux fur on top to add some extra texture and thought it would be a soft and sweet spot for baby to lay on and play. Plenty of future photo ops will be taking place here for sure, too!
DIY CLOSET
And this, you guys is our DIY masterpiece! One of the only DIY projects in the whole entire room, but wow, am I beyond happy with how it came together! It literally started as a pencil sketch on a scrap piece of paper and then transformed into this…
Get ready for a whole lotta photos! There were too many itty bitty details I had to photograph to show off to you!
You've seen that saying before, right? "You can change the world." or "You'll move mountains." Well, yes, true, but what's also true is there are going to be a whole lotta diapers being changed in here so it only seemed fitting. I love the idea of a letter board in here to change up with cutesy quotes and serve as a backdrop for more baby shots!
Admittedly, I had T pull down the 0-3 month bin from the basement and I dug through to find a few neutral pieces to hang in here as props. Not knowing whether we're having a boy or girl is such a fun surprise, but it's also hard to have any girly girl clothes or handsome hunk outfits ready! I did spot this 4 pack of onesies while at Target a couple weeks ago and just couldn't help myself 🙂
I'll be dishing on all the DIY closet details in a later post, but I will say the nice part about creating a DIY custom closet is that I was able to choose exactly how big or small I wanted the shelving and spacing. After deciding to design a 10″ wide shelving unit, I was delighted to find the most perfectly-sized woven baskets to set inside. The chalkboard labels were leftover from one of the boy's birthday parties and happened to keep them tucked away in my craft supply stash. Because baby things need cute little labels on them, don't you agree? And it was sort of a happy accident when I realized a diaper genie would bit inside width-wise…so I had T and my father-in-law leave about 30″ between the floor and the bottom shelf to allow for opening and closing the lid.
Here are a few more angles of the closet…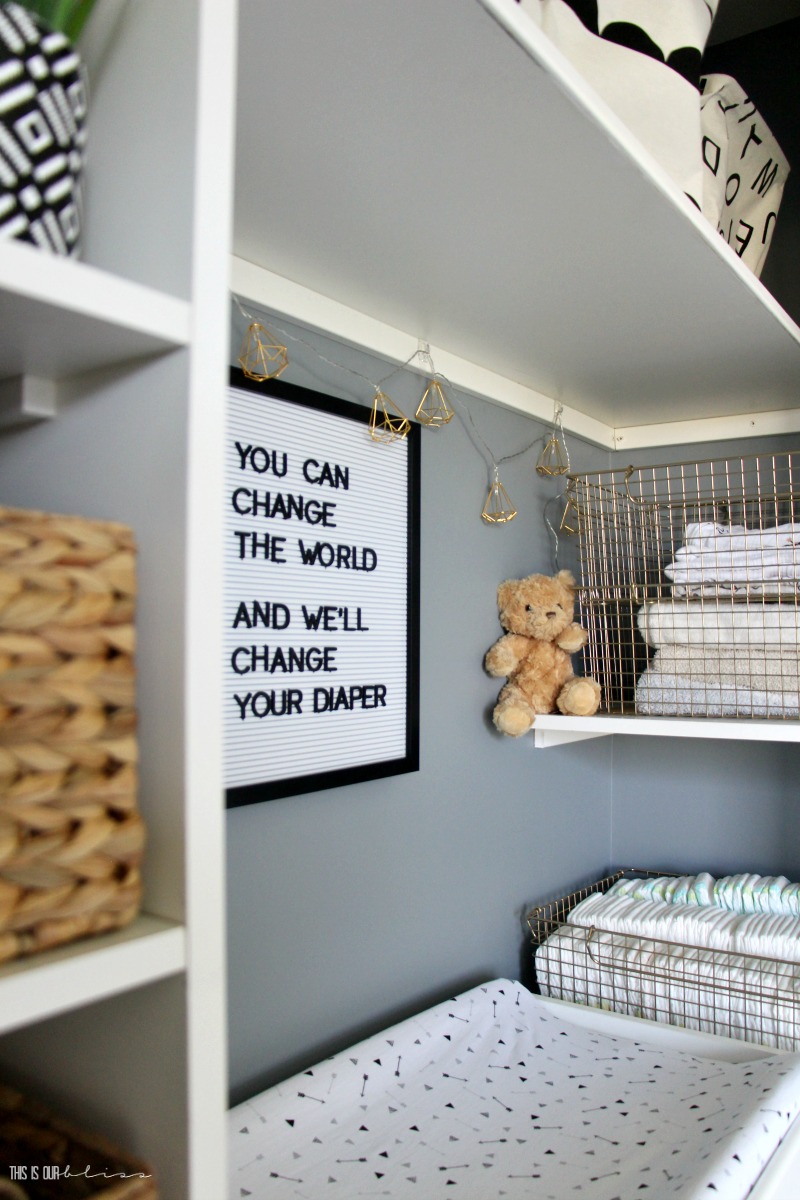 One more look at that letter board again!…
LIGHTING
Statement lighting is a MUST in any room. So when it was time to part ways with that lovely rainbow fan that used to be in here, I knew I wanted something bold, but still fitting for a baby's room. I went with this over-sized lamp [and yes, it is VERY large!] and this gold flushmount ceiling fixture.
SWEET LITTLE DETAILS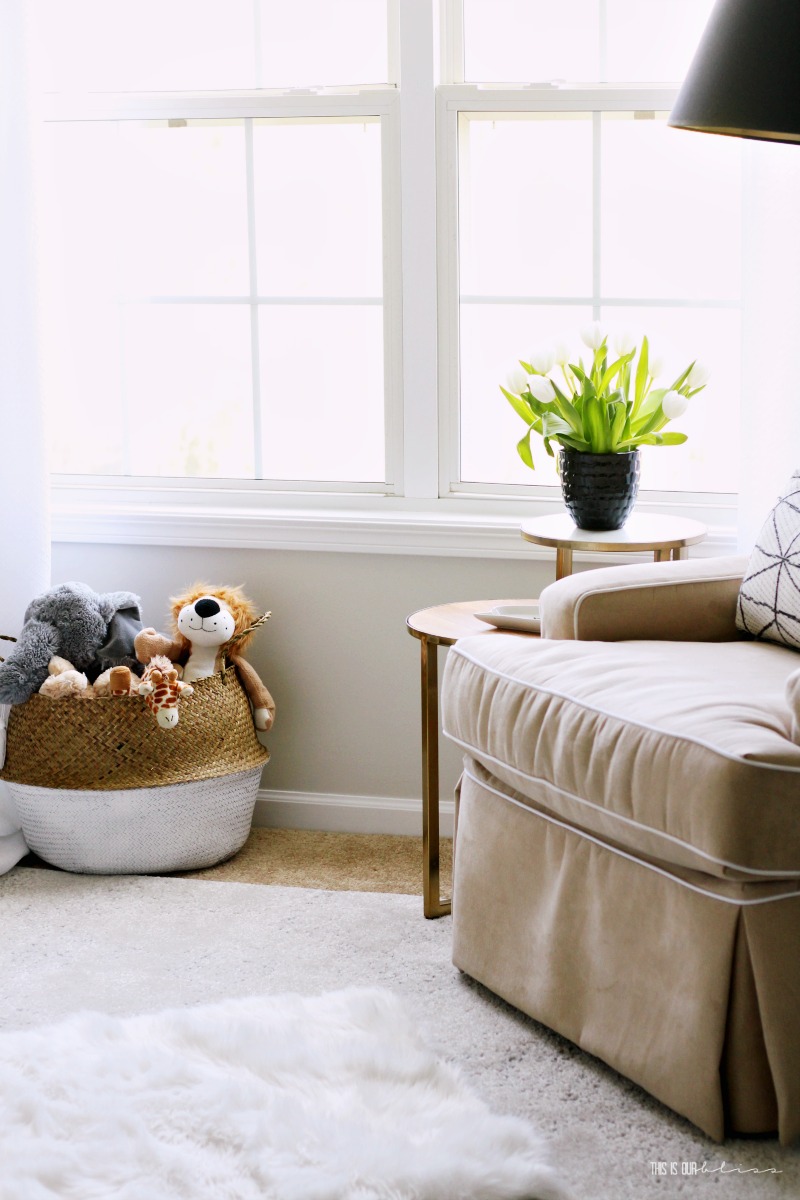 If tassels were made for anything, I would say there were made for baskets to store baby gear.

Another favorite element of this room in all it's black and white geometric glory is this custom lumbar pillow! It literally fits our rocker / glider like a glove and isn't too big and bulky behind your back when you sit down. So you can actually leave it on the chair instead of having to toss it to the floor each time you want to take a seat and relax. This is great news to me because I have a feeling I will be spending a lot of time perched right here in the coming months!
These gold animal head hooks were a last minute addition because I forgot I'd scooped them up for $3 each on clearance at Target months ago! Surprisingly, they don't reach the back of the door when it's open either. I thought they would make sweet little towel hooks for our little one.

And that about wraps it up, you guys!!
Most days, putting this room together felt like a circus and a rat race combined. But I truly can't even begin to put into words how nice it feels to have such a wonderful FINISHED space all ready for baby #3 when he or she comes home. We have some time before he or she arrives, but now that this room is complete, I can get the rest of the house in order. I'll be able to catch up on laundry [we have mountains] and then try to squeeze in some rest before our world shifts a bit this summer.
Honestly, the baby might actually rock our world, but we couldn't be more excited to welcome him or her to our family!
Thanks so much for stopping by today to have a look inside our Sophisticated Neutral Nursery! Sources can be found below:
SOPHISTICATED NEUTRAL NURSERY SOURCES:
crib [similar]
crib skirt
onesies
wallpaper
round wooden mirror
faux fiddle leaf fig tree
"I love you so" art print
gold touch lamp
black + cream geometric planter pots [HomeGoods]
silver Thumbs up figurine [TJ Maxx]
large rug
small faux fur rug [HomeGoods]
curtain rod
panels [HomeGoods]
curtain ring clips
gold ceiling fixture
black arch lamp
dot and scallop closet storage bins
alphabet closet bins
small woven baskets
wooden peace sign art
changing table
changing pad cover
black velvet baby hangers
wire stacking baskets
letter board
gold geometric string lights
Metal octagonal wall art
gold elephant wall hook
side table [similar]
rocker [similar]
black + cream lumbar
Wall color: Sherwin Williams Nuance | Closet color: Sherwin Williams African Gray

Still can't find what you're looking for? I did my best to round up all of the sources for the nursery. But if you don't see something listed that you love, please feel free to leave me a comment. Just ask about the source and I will do my best to get back to you as soon as possible. It have been thrifted or out of stock, but I'll do what I can to get you the info!
If you've missed any of the other posts in the Spring 2018 One Room Challenge, then you can get caught up below:
WEEK 1: Neutral Nursery Before Photos, Mood Board & Plan
WEEK 2: Neutral DIY Nursery Closet Plans + Closet Mood Board
WEEK 3: Neutral Nursery Wallpaper & Changing Table Update WEEK 4
WEEK 5: Neutral Nursery Gallery Wall
WEEK 6: Sophisticated Neutral Nursery Reveal
Thank you to these generous sponsors for their partnership in the Spring 2018 ORC. I wouldn't have been able to take this space on without them.
Lamps Plus | Minted | Tempaper | RugsUSA | Tonic Living
And thanks to all of you readers for supporting the brands that help make This is our Bliss possible. I also appreciate you following along each week of the One Room Challenge! Your comments, notes and support all mean so much to me!!
Now, to take a nice long break from any projects! This one about did me in ha!