Goodbye, Turkey. Hellllllooooo, Christmas! It's time to start decking everything! While I've shared a couple of Holiday DIY's in my Merry Making series [see DIY Holiday Hostess Gift & DIY Pom pom Wreath photo Ornament] and my first Gift Guide went live last week, today, I'm opening the doors and letting you inside our home all decked and ready for Christmas! I've joined 29 bloggers in Lovely Etc.'s Very Merry Christmas Tours and our Simply Red Family Room is first in line of all of the rooms in our home. More of my Christmas tours to come next week!
[*Affiliate links are used in this post.]
Come on in where it's cozy and warm! Literally, SO warm!
This space is our spot. Our family's hangout spot. Morning, noon or night, you can usually find at least two of us lounging on the couch, catching up on the DVR, reading books, doing puzzles or having Friday night family dance parties. You know the kind.
And this time of the year, you'll find us curled up by the fire either listening to Christmas music or watching Christmas movies…sometimes both at the same time! I love me some Christmas tunes and sometimes I just can't bring myself to turn it off. Even when the TV is on ha!

We do set up two trees each year – one in the family room (here) and the other one in the Living Room. This is the tree, however, that always gets the traditional red treatment. Last year, I unknowingly wound up challenging myself to decorate both the Living Room and Dining Room solely using neutrals and metallics. There was not an ounce of red or green to be found! I had the vision and knew it would be pretty, but boy, was it tricky! Have you ever tried to not use red at Christmas?!!
So, all of the red decor ended up in the Family Room, which ironically is the room is normally neutral all year-round.
But when I saw the deep, bold red in here against this dark, moody wall, I was in love. Decision made! The red was coming back in here again this year!
It feels rich and warm with all the cozy feels, so fitting for this time of the year. Our simply red family room is like a blanket with open arms, ready to swallow you up when you walk into the room. We come in and don't want to leave.
I have been known to fall asleep on the couch [aka 'Big Brown Beauty'] by the fire wrapped up in my fave leopard blanket. The best nights are definitely the stay-in-at-home-with-your-peeps-nights! Don't you agree?
Aside from cozy blankets, another winter staple around here are candles. I light them in the morning and enjoy the sights and smells all day long and into the night.
Now, I don't necessarily light allllll of these each day, but I do enjoy candlelight. It just says home to me…plus, doesn't everything look prettier next to the flicker of a flame?
Our tree stands tall in the corner and is adorned with all of our keepsake ornaments and gobs of gold, silver, copper, bronze and of course, red accents, too. I ended up adding the poinsettia picks to the top of the tree just like I did last year, but decided I didn't need to reinvent the wheel. It worked and I love it! I wrapped some plaid ribbon around the tree, alongside the black fringe crepe paper garland I used on this tree last year, stuck a couple of swirly, sparkly, beaded picks from the top and let the bead stramds drape down. I love the dimension and movement they add to the tree.
And since it's no secret I stalk the aisles of my local Dollar Tree on the regular, I picked up these small sunburst mirrors and decided to turn them into ornaments. Simple tutorial coming soon! And I couldn't help but add these darling leopard print ornaments to create some pattern play on the tree!
Working our way around the room, you'll notice our four quilted velvet stockings hung up with the same black and white striped ribbon as first seen in this Christmas Family Room Tour in our old house. Our stockings are no longer available, but they still have some really beautiful alternatives if you're in the market! Simple berry garland, mini metallic ball garland and a string of lights topped the mantel and finally several metallic Christmas trees.
The clay Santa my Dad made me a few years back sits proudly next to my "collection" of trees!
In the spirit of keeping things simple, I added a few red Christmas picks to the faux greens on my bookshelf and a few glittery white Christmas trees were sprinkled throughout the shelves.
I actually put out far fewer Christmas decorations in the Family Room than normal, but it feels good to simplify a bit. A few basic, classic red touches spruced this space right up and transitioned it from neutral Fall into A Simply Red Christmas Family Room.
Frosty the Snowman and pizza are on the agenda for Friday night and I bet you know where to find us!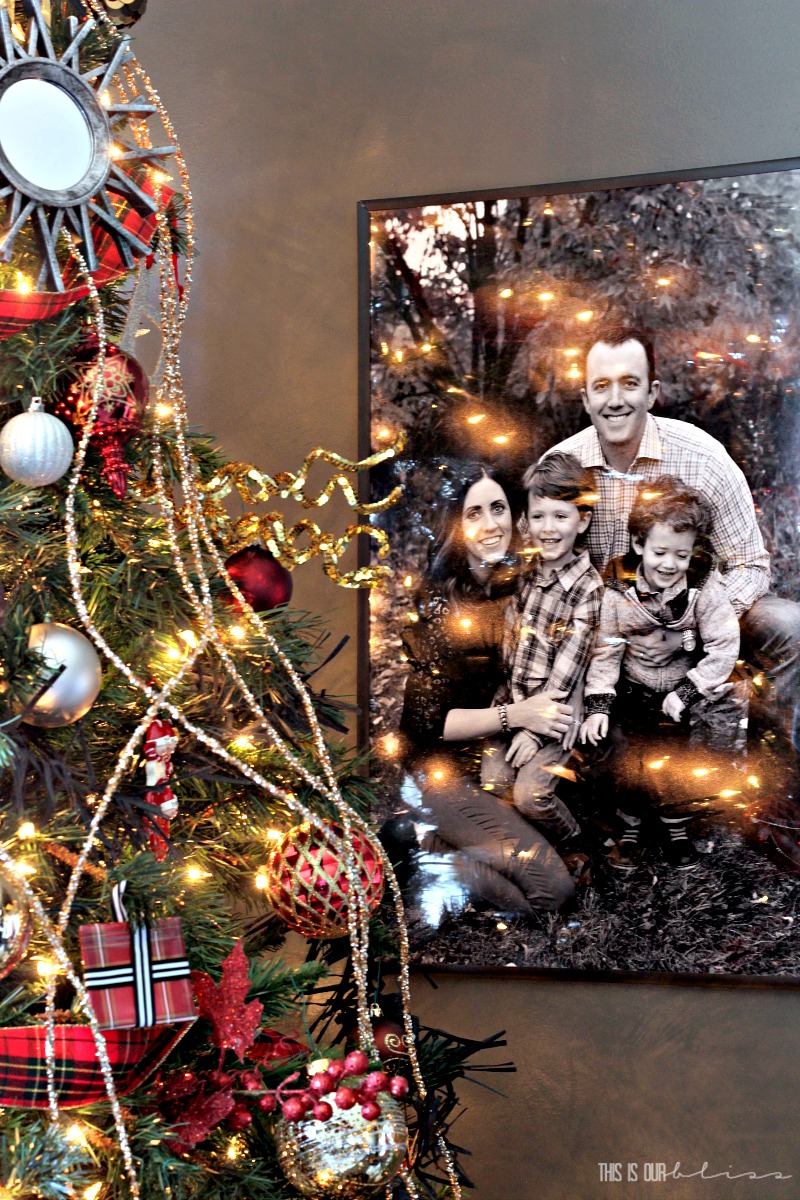 Thanks so much for stopping by today and a big thank you to Carrie for hosting this wonderful tour. I truly hope your holiday season is off to a great start!
Sources for our Simple Red Christmas Family are linked below!

The joyfulness doesn't stop here! Be sure to head down and peek at the other participants' lovely homes all decked and ready for you to step inside. Oh and don't forget to scroll to the bottom to enter our giveaway for a chance to win $300 in paypal cash! Merry Christmas to you all! See you back here tomorrow for more Merry Making and another edition of My Dollar Store DIY – Holiday!
See all of my Christmas posts so far this season below!: