Mid-January already and I'm really at a loss for yet another update for you guys — YIKES! Taking on a kitchen for a 1 month challenge is really proving to be more of a challenge than I realized! I do have a couple of progress photos to share and let me be clear…they are not pretty. Progress is well, progress, but progress is not always glamorous. Especially if you have a kitchen without doors and drawer fronts. All of my unorganized mess is exposed! Today is week 3 of the New Year, New Room Refresh Challenge hosted by Casa Watkins Living and I thought I'd give you a quick mid-project kitchen tour (not even mid, but more like early kitchen project tour) and chat about the direction I am going with my paint — How I chose my kitchen cabinet paint color!
Here are those not-so-glamorous kitchen progress shots…. (no judgement please! I've already started purging and rearranging. It's hard to ignore when you see it front and center all day, every day!)
And there's that light I mentioned in Week 1. You finally get to have a look at it in all of it's fluorescent glory.
The bases have been sanded and primed, the doors and drawer fronts have been removed and taken to our painter's shop for prep work, spraying and lacquer. I've selected the main paint color and am in between a couple of choices for the island. I'll let you weigh in 🙂
For the main part of the kitchen, including all of the upper and lower cabinets with the exception of the island, we knew we wanted to freshen up the space by going white. You can see the before photos here and the gorgeous white kitchen inspiration I rounded up for week 2 last week.
If you've ever searched for a good *white*, then you'll know there are so many to choose from, just like selecting a shade of any color really.
So I started my selection process by doing some very official research on Pinterest, taking note of a couple favorites and recommendations of other bloggers and then took a few suggestions from our painter.
We landed on these as contenders: Benjamin Moore White Dove, Benjamin Moore Simply White and Benjamin Moore and Benjamin Moore Decorator's White.
We ultimately decided to go with the middle of the road of the 3 in terms of true whiteness.
BM White Dove is a bit warmer…
BM Decorator's White is a brighter white (almost type-writer paper white) and for us…
BM Simply White seemed to be the perfect choice. Not too warm, not too cool, but just right.
Now for the island color! You might remember I included a deep shade of green in my kitchen mood board, well what I didn't mention in that post, was that I'm considering painting the island GREEN! A dark green that is so dark that it almost looks black. I wanted to do something a bit different than the gray or shade of blue that has been popping up across kitchens everywhere.
My only hesitation?
That it will be so dark and with dark countertops and black pendant lights that will be installed above the island, it will feel extremely heavy in the middle of the kitchen.
But then again, I love a dramatic contrast so it might be exactly what I'm looking for!
What do you think? Let's vote! Leave me a comment in the blog comments section with your choice…
Option 1: BM Hunter Green
Option 2: BM Tavern Charcoal
Option 3: BM Chelsea Gray
1 | Hunter Green was my original vision – it's different, would make a statement and I think it would be fun.
2 | Tavern Charcoal is a very similar color to the accent wall we have in our family room. We have an open concept so our family room and kitchen are essentially one large space. I think it would tie in the two opposite ends of the room nicely.
3 | Chelsea Gray is neutral, safe, a medium shade [so not too dark and not too light] and probably makes the most sense for resale purposes someday. But then again, it's only paint!
Ok, guys, I'm leaving it up to you! It's all in your hands ha! By next week I'm hoping the cabinets will be done, hardware installed, backsplash started and the rest will all have to happen between next Tuesday and the reveal. Time is ticking so wish me luck!
Now head on over to see the rest of the New Year, New Room Refresh Challenge Participants' Week 3 updates! And if you are joining us in a refresh of your own this month, be sure to link up your post or instagram link below!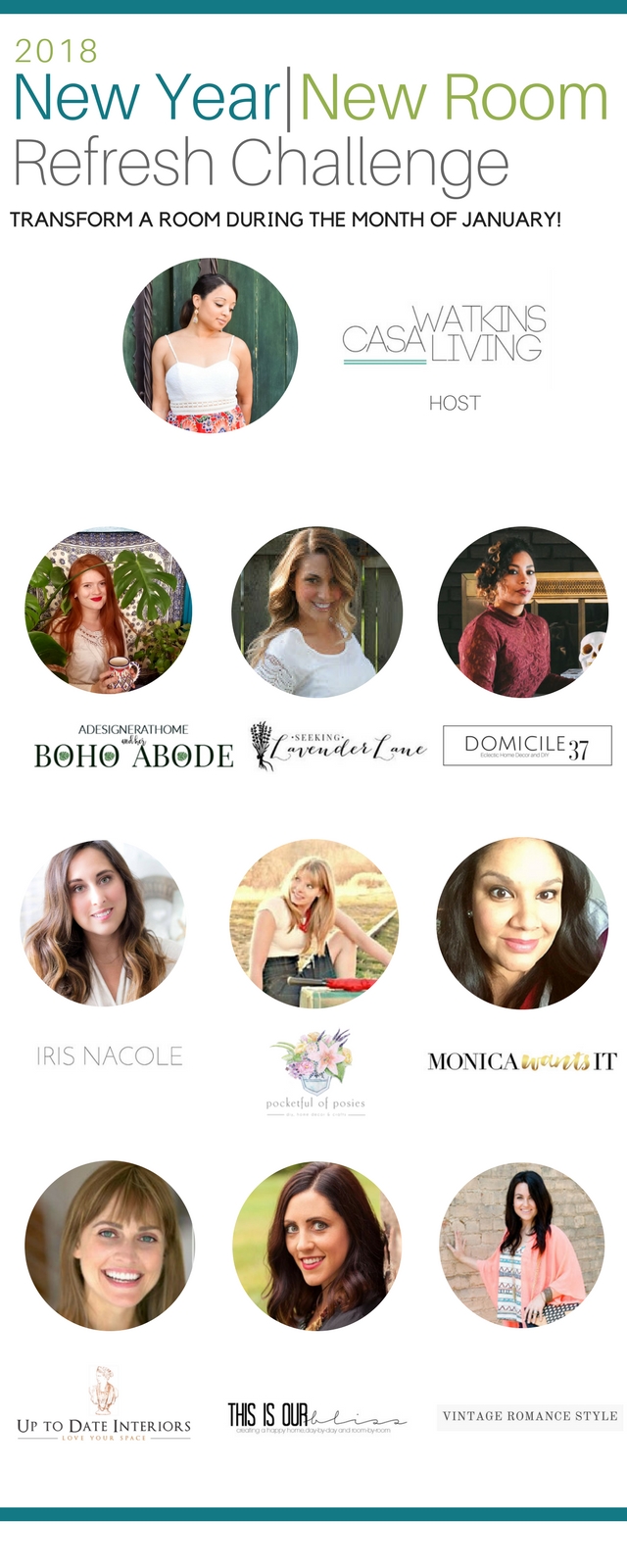 Casa Watkins Living // A Designer At Home // Seeking Lavender Lane // Domicile 37 // Iris Nacole // Pocketful of Posies // Monica Wants It // Up To Date Interiors // This Is Our Bliss // Vintage Romance Style
Stay up-to-date on the entire New Year, New Room Refresh Challenge below:
Week #1 | The Before + Kitchen Mood Board
Week #2 | 9 Fresh & Inspiring White Kitchens
Week #3 | Progress Update + How I Chose my Kitchen Cabinet Paint Color
Week #4 | 11 Gorgeous Kitchen Pendant Lighting Options
Week #5 | Kitchen Progress Update + DIY No-Sew Window Valence
Week #6 | Bright, White & Bold Kitchen Revamp Reveal Part 1