Why, hello there and happy new year! I wasn't sure if I'd be back this soon in the new year after a crazy busy holiday season and trying to rid our home of all the sickness we were plagued with last week. I don't want to dwell on our icky week of pneumonia and ear infections between Christmas and New Year's because we are on the mend and I'm just plain OVER IT! Plus I have a super exciting project to introduce to you today. You guys, I am taking our 90's kitchen head-on this month in another New Year, New Room Refresh Challenge!
Ahhh! Am I really doing this?!
I actually can't quite put into words how the excitement and sheer nerves I have about this "refresh" I speak of. The Family Room is always the space I refer to as our spot…our hub, our hang-out place, but there actually isn't any separation between our family room and our kitchen, so needless to say, I've been hopin' and wishin' and prayin' for the time to come to be able to dedicate some time [and funds] to fix the kitchen up a bit. You may be thinking… her kitchen…I'm not quite sure what it looks like?
And you would be exactly right.
You don't know what it looks like because I have never let our kitchen see the light of day on the blog. Yes, I've kept it covered and hidden and cropped and away from all of you until now ha! Each January, Stephanie of Casa Watkins hosts the New Year, New Room Challenge and I am so extremely grateful to be invited to participate for the last couple of years. In fact, this will be my third challenge! You may remember Part 1 and Part 2 of our Master Bedroom Refresh Reveal in our last house two years ago and just last year, I spruced up the boys' Playroom for the challenge. We have one month to tackle a room in our home and transform it into a space we love again. Sometimes all it takes is a little focus and a few minor changes to bring a space back to life…or give it some if it never had any!
Well, this kitchen is screaming for new life and I am ready to bring it!
Take a peek at the before photo and then read on to see my design plan and punch list for the kitchen revamp project.
THE BEFORE
I promise I will upload a couple more angles of the space, but I think you get the general idea. It is plain-jane and boring. We were lucky to move in last June with brand new appliances and I am happy with the countertops, but the biggest pain in my side is actually one you can't see in this picture. We have a massive rectangular fluorescent light above our island. I'm talking huge. It is just not pretty. I actually would rather cook in the dark and entertain by candlelight than turn on that LIGHT!
You'll see what I mean…I'll take a close-up of it. Actually, I won't need to. You can't miss it.
Oh and we can't forget about the fruit baskets on the backsplash. For some reason, it just hasn't grown on me yet?!!
And now, here is what I am envisioning for the space…
THE MOOD BOARD
[*Affiliate links are used below.]
counter stools | bar pull | knob | black pendant lights | black + gold chandelier | hexagon marble back-splash | white cabinets | dining chair | kitchen table | rug | abstract art | green art | word art | teak wood bowl
THE CHECKLIST
paint kitchen cabinets
remove backsplash / install new
replace light fixtures

remove fluorescent / install pendants
remove breakfast table fixture / install new chandelier
swap out the flush-mount fixture over the sink

add new cabinet hardware
put down new rug(s)
determine wall art
style and decorate
paint the ceiling?
extend the cabinets to the ceiling??
miscellaneous projects:

_____________________________
_____________________________
_____________________________
As you can see we have our hands full for the month. Some of the new pieces have been picked out, but nothing has been purchased which means nothing has arrived on my doorstep yet. Hopefully the FedEx man starts showing up around here in the next week or two! As far as the labor, we've decided to hire most of it. That means my main focus this week is to make final decisions on finishes, wrap up a couple more quotes and start lining up the work schedule with the contractors. T is going to take care of swapping out a couple of the light fixtures with the exception of the beast over the island, but the painting of the cabinets…well, let's just say painting a small bathroom vanity is more my league. Taking on an entire kitchen is a bit more than I'm willing to tackle right now! Wish us luck – him with the handy work and my with my project management skills!
Now be sure to scroll down and see what spaces the 9 other participants are introducing today! And new this year, if you are tackling a refresh of your own this month, we'd love to have you link-up each week with us sharing your progress! This really is the best time of the year to dive in and get after that space you've been putting off!
Come and join us 🙂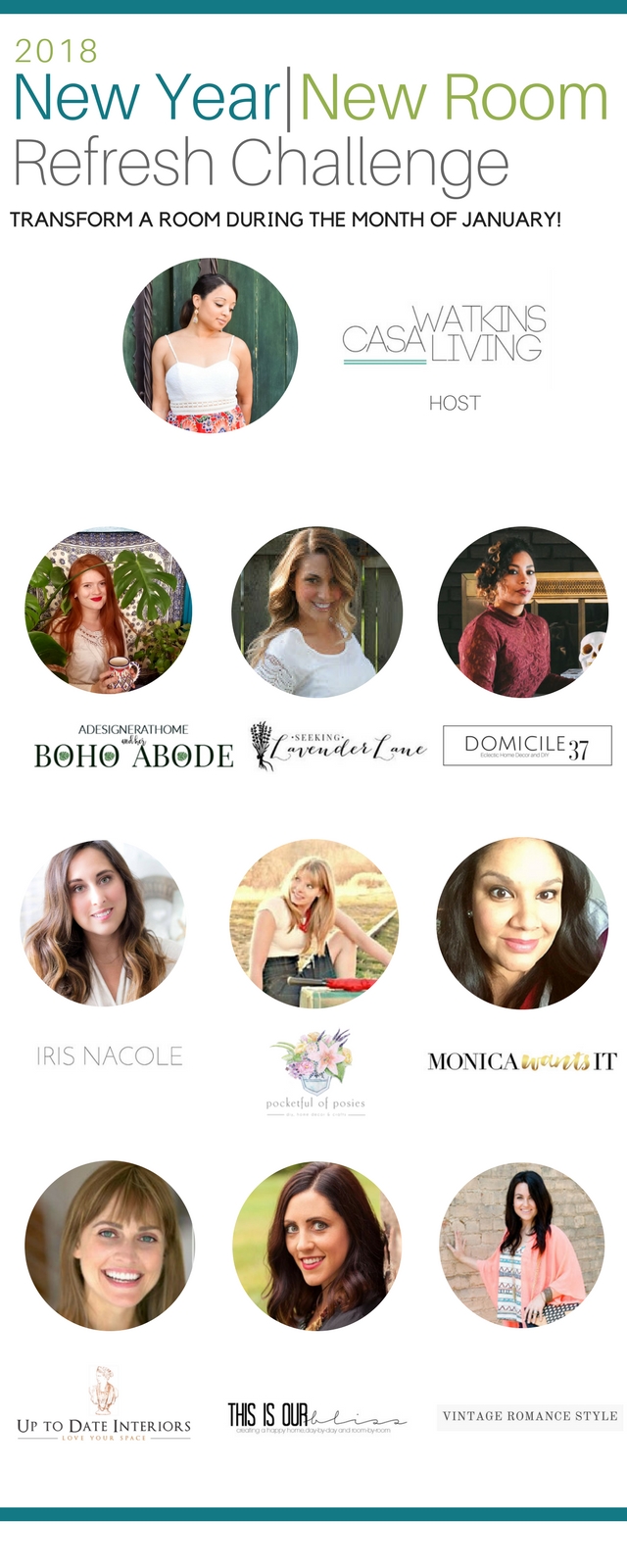 Casa Watkins Living // A Designer At Home // Seeking Lavender Lane // Domicile 37 // Iris Nacole // Pocketful of Posies // Monica Wants It // Up To Date Interiors // This Is Our Bliss // Vintage Romance Style
Now, it's your turn! Link up your own room progress below. We would love to see them!
* Please do not link up any posts not related to the New Year New Room Refresh Challenge. *
You can shop my mood board sources below:

Stay up-to-date on the entire New Year, New Room Refresh Challenge below:
Week #1 | The Before + Kitchen Mood Board
Week #2 | 9 Fresh & Inspiring White Kitchens
Week #3 | Progress Update + How I Chose my Kitchen Cabinet Paint Color
Week #4 | 11 Gorgeous Kitchen Pendant Lighting Options
Week #5 | Kitchen Progress Update + DIY No-Sew Window Valence
Week #6 | Bright, White & Bold Kitchen Revamp Reveal Part 1