The. Day. Is. Here! Excited is always an understatement when describing how I feel when I finish a space and reveal it on the blog, but I think this is the *most* excited I've ever been to be done with a room project! The hub of our home has been transformed over the course of 5 weeks and Kitchen Reveal day is here! Although it was a bit of a bumpy road…at times, not knowing if some [or any!]of my items would arrive in time or the hired work would be completed. We'll just say that my tile contractor was here just yesterday finishing up a couple minor things that thankfully were not noticeable in the photos I shot over the weekend. It truly came down to the very tail-end of the wire, but we made it and I could not be more pleased with the outcome.
The updated, white kitchen in my dreams has now become a reality. Our Bright, White and Bold Kitchen Revamp is complete and I'm ready to share it all with you today as the final week of the New Year, New Room Refresh Challenge hosted by Casa Watkins Living. I honestly can't believe this big of a transformation took place in just a month's time! In case you missed week 1, week 2, week 3, week 4 or week 5, let's quickly look and see where we started and then finally, how we ended up!
Remember the drab, dreary oh-so-90's oak kitchen we were workin' with before?
…And the mood board I created to help me stay on track as I aimed to bring my vision to life?…
…then a few of the progress shots taken between weeks 2 & 5 of the challenge…
After primer
After paint
Old backsplash – yikes!
After the old tile was removed…
…And finally, the AFTER!

Can you believe it?! I used to cringe every time I walked into our kitchen…so basically 977 times per day. Now, I am constantly pinching myself that it is actually the same kitchen!
And you guys, I totally went for the green! Thanks to all who weighed in. I wanted a deep green island from the very beginning, but I was so nervous to actually commit! You know me and color — I love it, but I rarely go big with it in areas of our home. For the most part, I stay pretty neutral. This time, I decided to go bold and not look back!
THE PAINT
Back in Week 3, I discussed our cabinet paint color options. We ultimately decided to go with Benjamin Moore Simply White for all of the cabinetry and Benjamin Moore Hunter Green for the island. The green is so much brighter in the morning and early afternoon until the sun shifts to the front of the house. At first I was nervous because I originally wanted to do a green that was so dark it almost looked black until I realized how dark and heavy the island would feel. Dark, almost-black green paint, dark counters, black stools and the pendant lights will be black, too. The medium green shade is the perfect contrast with the dark and light in the room!

THE HARDWARE
Oh, the hardware!! I am smitten with these champagne bronze bar pulls we installed on the doors and the bin pulls on the drawers. They are the perfect warm tone, not too gold and still look great with all of the stainless steel throughout the kitchen.

THE BACKSPLASH
This decision was probably the most difficult one. My vision was always some sort of a marble backsplash – marble hexagon, marble squares, rectangles, etc. But after bringing home samples, I decided I didn't like how the veins in the marble looked with the grain and movement of my countertops. We decided to go with a Snow Brick Glass Mosaic with 2″ x 6″ tiles. It's a shiny, cool-toned white color that sparkles and shines! The grout we chose is a silver and the color blends seamlessly in with the tiles. The backsplash part of the granite countertops were removed, so it was one smooth and consistent wall surface. There is a small section of the kitchen where the contractor had to run the tile from the base of the upper cabinet all the way down to the floor, so we did have to go out [2 times!] to buy more material. With all of the intricate cuts that have to be made with a glass tile to go around outlets, corners, etc. we ended up needing an additional 15 sq. ft. of tile that wasn't originally calculated for, even adding in 10% extra onto our measurements. Lesson learned! Or, maybe I will just have my contractor do the final measuring before we go buy materials next time ha!
THE RUGS
I so badly wanted to go with a black and white rug, but opted for this graphic, pattern-filled runner in shades of charcoal and light gray. I decided the white portion of a rug might not hold up so well in a kitchen and I was so drawn to the interesting pattern in this particular rug. Maybe you saw me unroll it in my Instastories when it arrived on my porch. It was love at first sight!
Instead of trying to coordinate another rug to go in front of the stove, I decided to use two of the same runners and ran them in opposite directions.
THE FURNITURE

There wasn't a whole lot of furniture I needed to buy, but new kitchen table chairs were definitely a must. We had black leather dining chairs before that had springs hanging out from underneath, scratches and tears galore… you get the picture. They held up great for the 8 years we had them, but in the last several months, they all were sort of on their last limb.

Enter these gorgeous cognac-colored leather beauties with gold metal legs. I heart them so much! I fell in love with them online, but once I got them home and in our space, I realized how perfect they really were! Plus, they clean up like a charm. I few quick wipes after a meal and the boys' messes disappear! If you're looking for a mid-century modern edge or just want a lovely, kid-friendly chair, I highly recommend! These West Elm chairs are the ones I originally found, but with that price tag I just couldn't. My chairs were half the price and I used a coupon, so they ended up being much more budget-friendly – the perfect West Elm dupe!
Our old black table had no reason to go, so it stayed in the space! I love how the warm cognac chairs look against the black table. We have it set-up as a small round table for everyday use, but we have the leaf stored away if we need to expand the table for guests. There are a few knicks and scratches on the top, but they are hardly noticeable. Overall it's been a fantastic table for our family!
You may also remember these brass & wood barstools from the kitchen mood board. It turned out our old stools were going to work out nicely in the space so we decided to not purchase new ones. ours are all black [seat and legs], swivel and have gorgeous brass nailhead trim. Sometimes you have to reel yourself in and remember it's okay to keep something that functions well and still looks great. New is nice, but saving a few bucks is always a good idea.
THE ACCESSORIES

These glass doors are everything! We always had 2 glass doors, but they had an oak grid across the front and the pieces didn't line up with the position of the shelves so anything I placed in the cabinet looked choppy and cluttered. Once the oak was removed from the glass and the inside of the cabinets were painted white, I was able to style my shelves with books, bowls, wine glasses, cocktail glasses, beer glasses and even a set of green vintage wine glasses that were once my grandma's.
Now that the kitchen has been de-cluttered and all of the countertops cleared off for me to take pictures, I instantly realized how nice it was to have just one centerpiece on the island. I won't always have quite an arrangement, but I do love how this one came together! The gold bucket was a HomeGoods find and the flowers are a mix of faux stems from Michaels and fresh flowers from Trader Joes. I love the soft pale pink mixed with the white!

I am a firm believer that everything looks better in a tray, so I corraled our oils and placed them in a tray with this black pineapple, small flower vase and a thrifted copper kettle that I filled with toothpicks.
Everything is in an arm's reach while cooking on the stove.
Another aspect of this space that really pulled it all together for me was this printable art print I found on Etsy.
Honestly, it was difficult to catch a great shot of the art hung in the space because of the placement of the windows and the direction the light shines in near it, but it is stunning! I purchased the downloadable image [for $6!], uploaded it to Walgreens online photo center, had it printed in a 24″ x 36″ poster size and then picked up a studio poster frame from Michaels. I think when it was all said and done, I spent $50 on a HUGE piece of art! The black and green brush strokes morph into a goldish-beige color – giving it sort of an ombré effect. I only had one wall to work with in the kitchen space and this print in a classic, bold black frame was exactly what was meant to be there!
THE LIGHTING
Unfortunately, the main lighting pieces are back-ordered until the end of February. However, this gorgeous brushed brass and glass flushmount arrived a few weeks ago and T installed it over the sink. It's simple and elegant and is perfect for that little nook.
Although you can't see it, the atrocious fluorescent light box above our island is still there! I'm patiently awaiting the arrival of the island pendants and a new fixture for above the kitchen table. So when they get here and are installed, I'm pretty sure I'll be doing a Bright White & Bold Kitchen Revamp Reveal PART TWO!! So be on the lookout in early March 😉
That is it for me for today, my friends! I hope you enjoyed seeing our kitchen transform over the course of January. I can't thank Stephanie of Casa Watkins Living enough for hosting this challenge and inviting me to participate for the last 3 years! [See my Master Bedroom Revamp and our Modern & Bold Playroom Reveal from the previous years' challenges] I'm also beyond grateful for the products I received from our generous sponsors. They truly made this Kitchen project possible!
Lamps Plus | Wallpaper Boulevard | Rugs USA | Velvet Finishes | Smith Honig | Liberty Hardware
Two things before you go…
One I've linked sources throughout the post, but I have everything included down below. If something is no longer available or sold out, I tried to link something very similar!
[*Affiliate links are used below.]
green abstract art
black, white, gold abstract art
gray runners
2-tier gold wire basket
gold whisk
gold serving spoons
gold pedestal bowl [similar]
snow brick glass backsplash
leather & metallic dining chairs
flushmount light over sink
champagne bronze bar pulls
champagne bronze cup pulls
black counter stools [or these]
black kitchen table
black appetizer plates
white rectangle dinner plates
striped napkins
black flatware
wood napkin rings
wood tray
black pineapple
spice rack
tall green wine glasses
acrylic wine rack
gold tray
DIY No-Sew Window Valence
And secondly, don't forget to check out all of the other New Year, New Room Refresh Challenge Reveals today. They are absolutely stunning and super inspiring!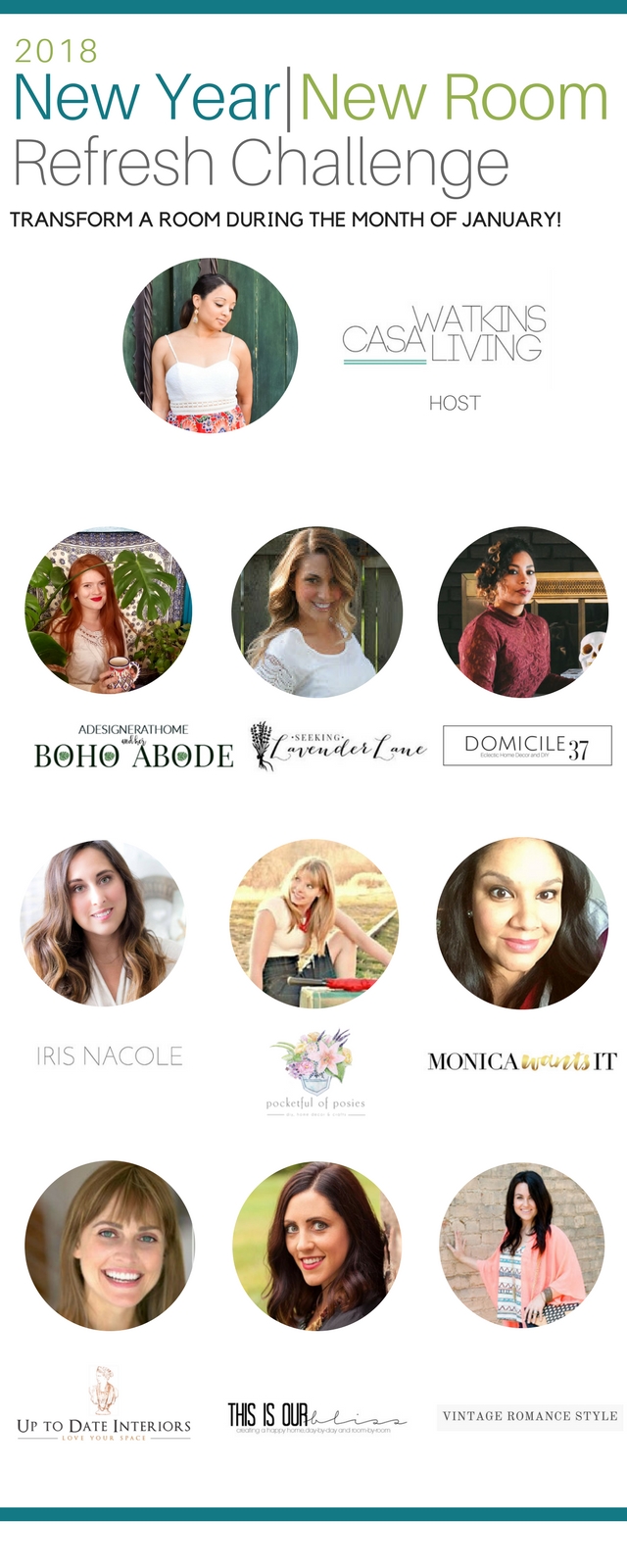 Casa Watkins Living // A Designer At Home // Seeking Lavender Lane // Domicile 37 // Iris Nacole // Pocketful Of Posies // Monica Wants It // Up To Date Interiors // This Is Our Bliss // Vintage Romance Style
Stay caught up with all the posts in this year's New Year, New Room Refresh Challenge below:
Week #1 | The Before + Kitchen Mood Board
Week #2 | 9 Fresh & Inspiring White Kitchens
Week #3 | Progress Update + How I Chose my Kitchen Cabinet Paint Color
Week #4 | 11 Gorgeous Kitchen Pendant Lighting Options
Week #5 | Kitchen Progress Update + DIY No-Sew Window Valence
Week #6 | Bright, White & Bold Kitchen Revamp Reveal Part 1
Thank you all for being here. You're the best!!

* This post was sponsored by Lamps Plus, Rugs USA and Liberty Hardware. All images, thoughts and opinions are my own. Thank you for supporting the brands that help make This is our Bliss possible!