Can it really be Tuesday already? Today is all about the lighting! Specifically my favorite kitchen pendant lighting options for your island! Before I share all the fabulous pendants I rounded up for you all, we've got to chat about this challenge and the harsh reality that comes with taking on a space in a one month timeline.
Here's the situation…
This is the third New Year, New Room Refresh Challenge that I've participated in, that Casa Watkins Living so fearlessly leads and graciously hosts each year. [She's the best, you guys!!] So I clearly know the tight timeframe. I've refreshed our master bedroom and last year, I made over the boys' playroom – both rooms had the same one-month January timeline. This year, as you know, I apparently bit off quite a large chunk of a space!! I knew it would be tough to accomplish, but I also knew how much love our kitchen needed and now that you know about our big announcement, you know the real countdown is on to wrap up some major house projects before June!
All that being said, I've run into a few delays. From the beginning I told you guys that we were hiring out almost all of the work in the kitchen. I've wanted to paint my kitchen cabinets since we moved in and I did think it was something I would DIY, but given my current condition [hello, pregnancy!], I just didn't have it in me. So off I went to find a painter, tile installer for the backsplash and an electrician to install the island pendants, breakfast table light and the flushmount light over the sink [which T actually did over the weekend!]
All was good. I located several referrals, got my quotes, did some research and made the decisions on who we would be using. I thought I was doing a pretty darn good job as a Project Manager, but there was one thing out of my control.
Product.
We've got some pretty fantastic sponsors this challenge and I'm thrilled to be working with ALL of them. However, with all of the severe weather so many of us have been facing over the last few weeks, most if not all, of my items have been back-ordered and are simply not going to arrive in time. Huge bummer, but I'm just trying to roll with it!!
My painter is close to having my cabinet bases completed and will have the doors and drawer fronts on later this week.
Oh and my island?
Thanks for all of your votes in week 3, but I think I'm going to wait to share what color I went with until next week! It's not done yet, so maybe I'll give in and share a sneak peek on Instagram or Facebook, so be sure to follow me to keep up!
Back-splash is scheduled to go in at the end of this week, but my contractor ran into a few issues finishing up a kitchen and bathroom for another client so I've been patiently waiting!
My lighting [except the flush-mount], rugs and hardware are all either back-ordered or just have not arrived yet. Soooooo…long story, short…I might not have a full reveal for you guys next week! Although I'm super disappointed, I know it is simply out of my hands! I'm not going to get stressed out and upset because that would no absolutely no good! Plus the anticipation is only getting stronger! There are always going to be hiccups when you're working on any house project, whether large or small, DIY or not.
I'm sure many of you can relate! Am I right?
So for next week, I will be sharing an update with photos of what's done and possibly a DIY. Yes, I might be taking on a small do-it-myself project after all. Stay tuned to see what I'm going to be working on!
Now, the part of this kitchen I am the most excited and anxious to see change or be refreshed, is the lighting! You know how badly I want our fluorescent light box to be GONE, but it looks like I'm going to be waiting for a little while until my pendants are back in stock. But today, I'm going to share all of the gorgeous options I was narrowing down to find the perfect ones for us!
Here are my favorite kitchen pendant lighting options [spoiler alert: they are primarily black and gold!]:
one | two | three | four | five | six | seven | eight | nine | ten | eleven
Aren't they all so gorgeous?! Decisions, decisions!
I ended up going with the lights you saw in my Mood board in week 1, but you'll have to wait a bit longer before you see in them in our kitchen!
All of these lights are over 8″ wide and up to 16″ wide as I am going with two instead of three lights over the island. If you want to use mini pendants and do three over your island, then Lamps Plus has plenty of options for that size, too. Since our breakfast table sits directly next to the island, I didn't want to crowd the space with 4 lights, so I'm going with two over the island and a larger, coordinating light over the table. I truly can't wait to see the transformation of the space once the lights are hung up! I think it's going to be such a game-changer!
And now, please, please head over to my fellow participants' week 4 updates. We've got kids' rooms, playrooms, bedrooms and more! Also, if you've been working on refreshing a space of your own this month, please don't forget to link up so we can help cheer you on to the finish line! Remember, only link-up relevant room refresh posts to our link-up. Thanks!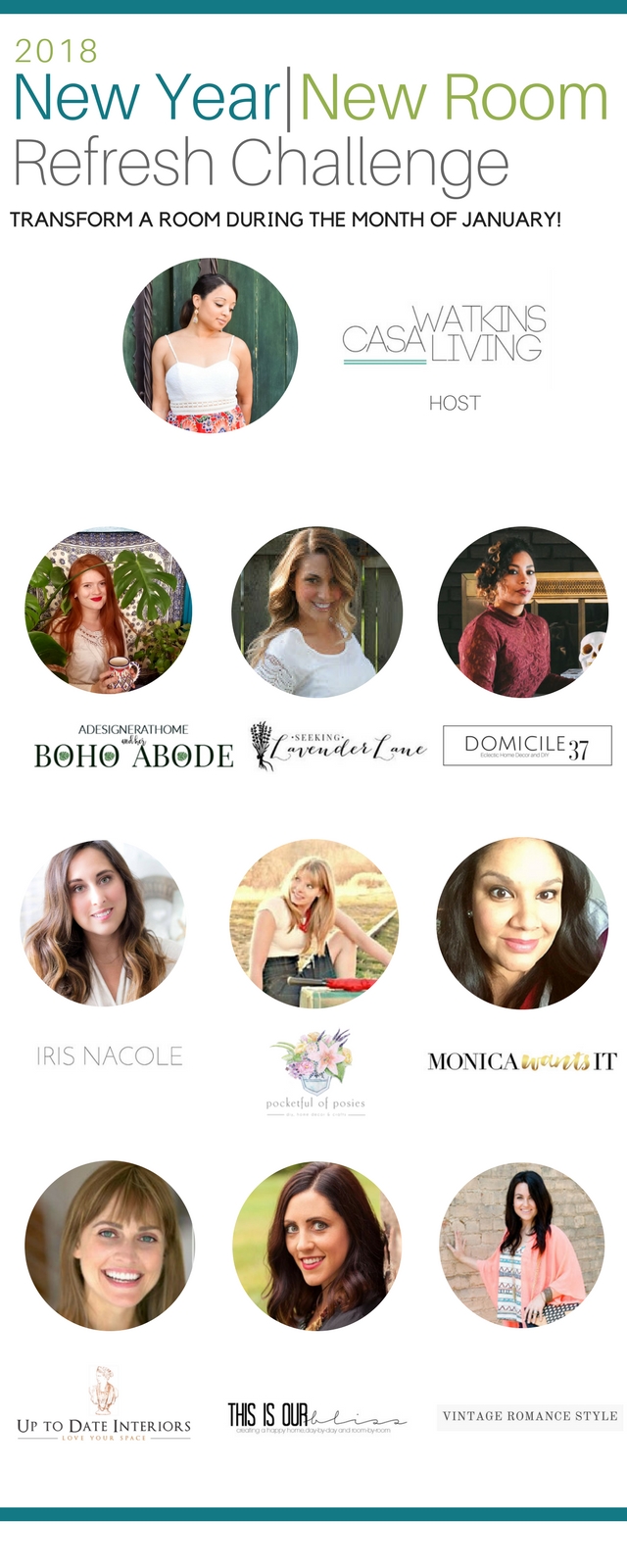 Casa Watkins Living // A Designer At Home // Seeking Lavender Lane // Domicile 37 // Iris Nacole // Pocketful of Posies // Monica Wants It // Up To Date Interiors // This Is Our Bliss // Vintage Romance Style
Lamps Plus | Wallpaper Boulevard | Rugs USA | Velvet Finishes | Smith Honig | Liberty Hardware
Stay caught up with all the posts in this year's New Year, New Room Refresh Challenge below:
Week #1 | The Before + Kitchen Mood Board
Week #2 | 9 Fresh & Inspiring White Kitchens
Week #3 | Progress Update + How I Chose my Kitchen Cabinet Paint Color
Week #4 | 11 Gorgeous Kitchen Pendant Lighting Options
Week #5 | Kitchen Progress Update + DIY No-Sew Window Valence
Week #6 | Bright, White & Bold Kitchen Revamp Reveal Part 1