Hello, August and hello out there to all of you! I'm about a month late in getting this post out, but blogging has had to take a backseat to life lately. Adjusting to three littles after we welcomed our new addition in June has been, well, an adjustment. He is SUCH a good baby so far, but that doesn't take away from the fact that there are still THREE littles who need me and my attention the majority of the day and that's ok! That's what I'm here for. But what isn't getting any attention is this house lately. So in preparation for my Fall projects once the big boys are back in school, I've put together a 2018 Master House Project Punch List Mid-Year Update to see what's checked off so far and what I need to get busy working on!
2018 Master House Project Punch List Mid-Year Update
1 | BASEMENT GUESTROOM – in process
We did make some progress in this space and some of it was in preparation for T's cousin who stayed with us for a portion of the summer while she did her internship nearby. I wanted to make the space feel welcoming and comfortable for her especially given that it's in a basement which can oftentimes feel cold and drab.
Take pegboard down
purge & declutter
sell armoire or find a new spot for it
patch & paint walls
get new bedding – on the hunt
add a headboard?
find new lamps
new rug
mount TV – might not
dresser makeover – planning to paint and update hardware
style and decorate – wall decor, etc.
Add'l items:

new curtain panels on the small window
_______________________
_______________________
Since I created this punch list for each space at the beginning of the year, some of what we have done or plan to do has changed slightly. My plans for this room remain the same so we have about half of the list left to tackle. This is one of those spaces that I will probably do little-by-little here and there. We have someone stay down here every other month or so which allows for plenty of time to get in there to do some sprucing.
2 | NURSERY – completed May 2018
Well, I'm happy to report that this room is DONE! Which you already know if you've been following me this year. We tackled the new baby's nursery during the Spring One Room Challenge that took place over 6 weeks this past April & May. Soooo basically everything below has a big checkmark next to it!
paint the walls
remove rainbow ceiling fan
remove heart wall sconce
install new ceiling light
new curtain rod
hang new curtain panels
replace blinds with cordless, blackout pleated shades
closet makeover
determine changing area / dresser situation
swap out rocker / glider with our other one
rearrange horizontal bookcase to a vertical position
new rug
style and decorate
Here are a few shots from the finished space…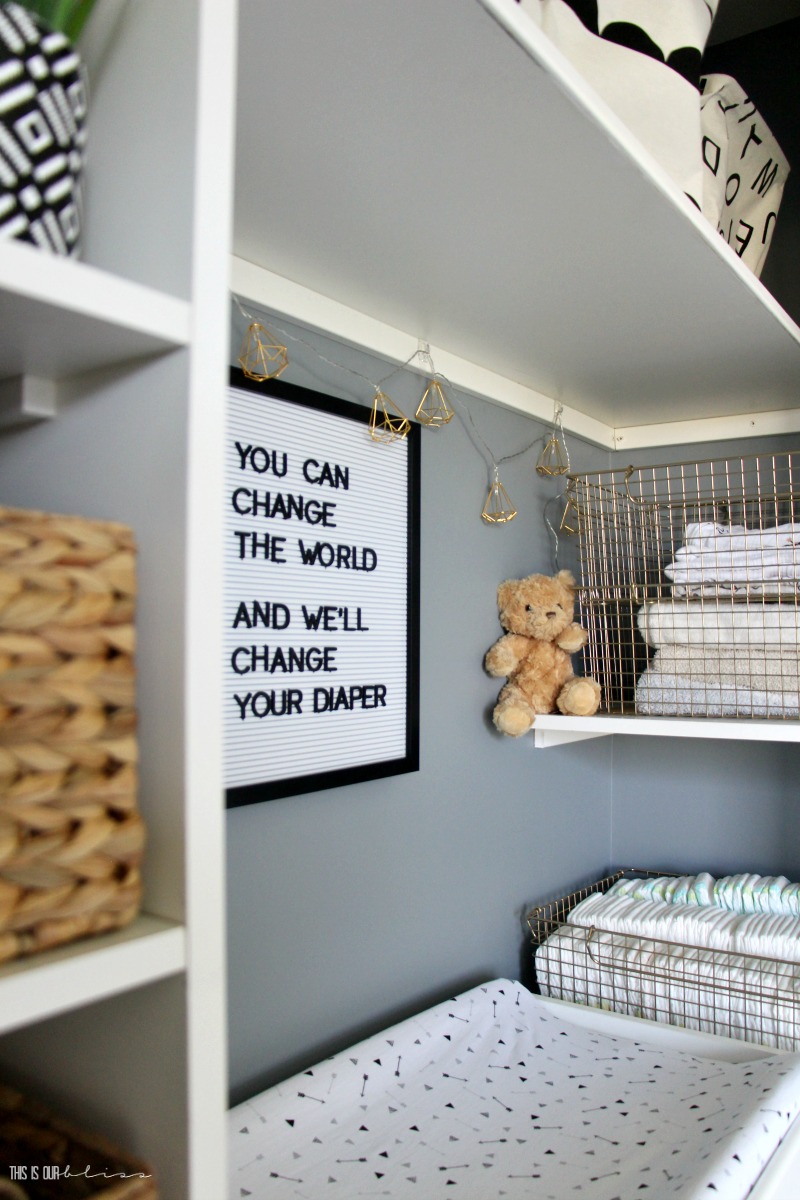 If you missed the reveal, you can see our Sophisticated Neutral Nursery here. I'm so in love with it and the little one who will soon be claiming it as their own.
3 | SHARED BOYS' ROOM – in process
The boys have "unofficially" moved in together and I say unofficially because we haven't made many changes to the space to accommodate the two big boys. Also, I need to come up with new names for these guys because they are no longer the biggest and littlest…the biggest remains, but the littlest in now the middle!
determine bunk bed / loft bed situation – still working on this
get top bunk / loft bedding
closet makeover (remove wire shelving, put in new DIY system, etc.)
determine shared clothing space functions [closet, dresser, etc. – both boys' dressers are now in the room – one on the wall and the other inside the closet….might try to go down to one when we remodel the closet??
remove blinds / install cordless, blackout pleated shades
move wall desk?
add another floating bookshelf
update various aspects
style & decorate
Add'l items:

purge and declutter
______________
______________
As you can see, we have a ways to go in here since all we've done is some light decluttering and had the cordless blackout shades installed. Once we figure out the bed situation [the middle is currently sleeping on a twin blow-up mattress on the floor!] I think the rest of the plans for the space will sort of fall into place. For now, the boys are settled in and used to the idea of sleeping in the same room which was the part I was most nervous about! Don't get me wrong, there are definitely some nights where they keep each other up laughing and messing around or arguing with one another. But for the most part, they are doing great and love sharing a room. So far they've been pretty good about letting the other one sleep when one of them wakes up and that is KEY!
I'm hoping to have a bed picked out and ordered sometime this month so we'll begin to chip away at the other components throughout the Fall.
4 | LAUNDRY ROOM – in process
new washer & dryer
install new base cabinet
new countertop
replace sink & faucet
hang floating shelves
paint upper cabinets – have the paint, just need to do it!
change out the cabinet hardware
buy & install wall-mounted drying rack
install a rod for hanging clothes – still working on ideas for this
add curtains – deciding between a roman shade or a panel
find & hang art
bins & baskets for the shelves
new hampers for under counter
We've actually made the most progress in this space in comparison to all the others. I intended to do a couple of progress posts before now [see the Laundry Room mood board here], but just didn't get around to it. I'm really hoping to get the cabinets painted in the next 2 weeks. I've had the paint for awhile now so once I remove the doors and have everything inside the cabinets staring back at me, I'm hoping it will make me jump on it a bit faster! And I'm already eyeing some new pretties to install on the doors. And if I don't pull the trigger on the new ones, I might just use these black and gold beauties again. We put them in our basement guest bathroom when we randomly worked on it this Spring. I know, who actually works on an entirely new space when you have a list of NINE ROOMS to get through?? This mad woman, apparently. You can see the reveal here!!
5 | MASTER BEDROOM – in process
wallpaper accent wall
new bedding
new pillows
buy & hang curtains
find a chair for the corner
hang new art
swap out bench – I've been looking for benches, but haven't found any I like
declutter top of dressers – desperately need to do this. I did just order this over-the-door jewelry organizer to help with this process. It should be here next week.
style & decorate dressers & nightstands
And this room? Well, it practically looks the exact same way it did when I wrote the original 2018 Master House Project Punch List post. We didn't hit these last 3 items, but we did slightly change up the look of the area around the nightstands by restyling the surfaces and adding some colorful art on the wall. You can see the quick and colorful updates to the master bedroom here.
6 | KITCHEN – completed January 2018
If you remember when I shared this 2018 Master House Project Punch List, our Kitchen Revamp was already underway for the New Year, New Room Refresh Challenge in January. We tackled the big items like painting cabinets, new hardware, backsplash, kitchen chairs and lighting, but still needed to address the pantry and create a work area. You can see the Kitchen Reveal here and stay tuned for the Reveal Part 2 to see all the pretty new lights hung up!
REDO PANTRY – Fall 2018

remove wire shelving and replace with solid shelving

purge!
purchase new bins & baskets for organizing

CREATE DESK / WORK AREA – in process

buy new desk / console table

find a chair – using old kitchen chair for now
create a paperwork/mail station
new lamp
7 | UPSTAIRS GUESTROOM / OFFICE – Winter 2018/2019
remove desk & computer / relocate to playroom
remove cubby storage unit with decor, craft & sewing supplies
find dresser? – might use this one
put in a vanity?
closet makeover to increase functionality
style & decorate
This room and the next two are on the back-burner for now. We still want to do these projects eventually, but they are all related to one another so basically once we start one, we have to do the others… a total domino effect. We did take the 16 cubby unit out of the upstairs guestroom and relocated it to the basement. It opened up some additional space for guests' luggage or just walking space at the foot of the bed. I really want to work on the closet in this room sooner than later because I plan to store some of my extra throw pillows, blankets and other decor items in here. However, realistically, we're talking late this year or early next year before much happens in this room, the playroom and the basement playroom.
8 | PLAYROOM [MY NEW OFFICE] – Winter 2018/2019
purge/de-clutter/donate toys
relocate all remaining toys & games to the basement playspace
put in desk & computer
relocate files, craft supplies, decor stash/staging items, etc. to the built-ins
swap out rug
re-do gallery wall
style & decorate open shelving
We've done a couple sweeps in here to clear out toys, but it needs more of an overhaul. I'm thinking once the big boys go back to school will be prime time to do a massive purge of toys! Anyone else planning to do this?!
9 | BASEMENT PLAYROOM – Winter 2018/2019
re-organize toys / determine storage pieces
create play space separation [basketball area, reading spot, playdoh & craft table area, train table, etc.]
hang wall decor
style & decorate
The same goes for this playspace. We spent some time down here last weekend and filled 2 garbage bags for Goodwill and another bag for trash. Everything was put back in place and it already feels so much more put together. I might actually think about coming down here more than once a month if we can keep it this neat and tidy!
Phwew!! Ok this was a lot to get updated and share with you guys! I know there was a lot of info above and I went into so much detail in order to hold myself accountable and also to keep everything organized in one post so it's easy to refer back to. Here is the rundown…
2018 Master House Project Punch List Snapshot
2018 Completed Projects
2018 Projects in Process
Basement Guestroom
Kitchen Workspace
Shared Boys' Room
Master Bedroom
2018 Projects to Start this Fall / Winter
Kitchen Pantry
Upstairs Guestroom
Playroom—> Office
Basement Playroom
*New projects not yet introduced*:

Boys' Bathroom
Upstairs Hallway Linen Closet
Basement Family Room
Yep, there I go again! Priorities change and new ideas form so these last 3 projects just might find a way to sneak into the 2018 lineup. Be sure to stick around to see the mood boards for these spaces and all of the many, many progress posts and of course, reveals still to come!
With 3 weeks left of Summer and a newborn in tow, I know things are going to be busy, but I'm going to try to slow things down and enjoy. I can't promise many updates until September, but I might be able to get a few things started. Don't forget to check in with me on Instagram and Facebook to see little bits of what's going on around the house including some behind the scenes sneak peeks.
Thanks for reading and I'll see you back here soon!