Hello, hello! If you are visiting today from A Blissful Nest, welcome! Isn't Rebekah's home breathtakingly beautiful?! Well, the final touches have been put on our Christmas Family Room [including an extra stocking this year for our 3rd baby boy we welcomed this Summer!] and I'm thrilled to be joining the lovely ladies of 11 Magnolia Lane and Evolution of Style for the 4th year for the annual 12 Days of Holiday Homes Tour! This year, I'm sharing a peek at our Christmas Family Room all decked for the holiday season! Come see my space in all of it's neutral, metallic and a touch of green glory!
[*Affiliate links are used in this post.]
Three little guys. Three times the mess. Three times the love. And three times the joy at Christmas!
When we pulled the holiday bins up from storage, the big boys were so excited to see what was inside. I think they partially thought gifts had already arrived, but they quickly realized it was just a lot of mommy's pretties. They went back to playing, but as soon as I pulled out the extra strands of lights, they perked up and ran back over. Christmas tree lights really are magical and I just loved seeing the twinkle in their eyes that first night the tree went up.
Come and take a look at the first of two, sometimes three trees that go up in our home this time of year!
OUR CHRISTMAS FAMILY ROOM
The fire is on every night and this is where we lounge and cuddle. On the busy weeknights when we're rushing through dinner to race upstairs for bedtime, we can still enjoy the fire and the lights of the tree because of our open concept layout. Our kitchen and family room are basically one big space, which is a nice feature, but especially this time of year.
The boys aren't the only ones who love to look at the lights on the tree! This is our view from the kitchen table and tomorrow, I'll be sharing the rest of the kitchen with a few Christmas touches.
I kept things ultra simple this year in terms of "decking"! There is already plenty of extras around the room with the belongings of a certain 6 year old, 4 year old and I almost forgot how many things are required in each room that a baby occupies 🙂
We temporarily cleared the bouncers and blankets and replaced them with the tree, the stockings, garland and mini trees on the mantel, a lovely wreath on the bookcase and a few festive pillows.
One other addition to the space, was this bold black and white abstract art print that normally hangs in our bedroom. When I decided to go light, bright and neutral with our tree this year, I had a vision of this print peeking out from behind the tree. We grabbed it from upstairs and hung it up and it was exactly how I wanted it to look!
CARDIGAN | LEOPARD BLOUSE | BLACK DENIM
To create the look of this tree, we simply used:
[*more items linked at the bottom of the post.]
ornaments [larger ones at the bottom, medium ones in the middle and small ones at the top and used as fillers throughout]
faux white clip on poinsettias [found them here]
white tulle
white crepe paper fringe garland [the same ones from the Merry & Metallic Living Room Tree a couple years ago]
gold beaded garland
white and gold tree picks
That's all besides the silver star on top!
For the mantel, I hung up three mini green felt stockings with sherpa trim that I found at the Target Dollar Spot for the boys and then T and I each have a fluffy, white fur one on either side.
Green garland, a load of miscellaneous Christmas trees in varying heights [mostly from Michaels, Hobby Lobby and Dollar Tree] staggered across and one shiny gold reindeer to finish it off! I think he'll have a place in our home each year. The boys love seeing him up there!
Working our way to the right side of the mantel, we have this big bookcase. And quite honestly, I haven't had the urge to do much shelf styling in what feels like forever. A clear glass tree, a clay Santa my Dad made for me and a luscious green and silver wreath attached to the front and suddenly the bookcase didn't feel so old and tired to me anymore. Sometimes you only need to make a few little tweaks for it to take on a whole new look!
This wreath from Lynch Creek Farms alone would have done wonders.
Isn't it stunning? I wish you could smell the fresh pine scent through the screen!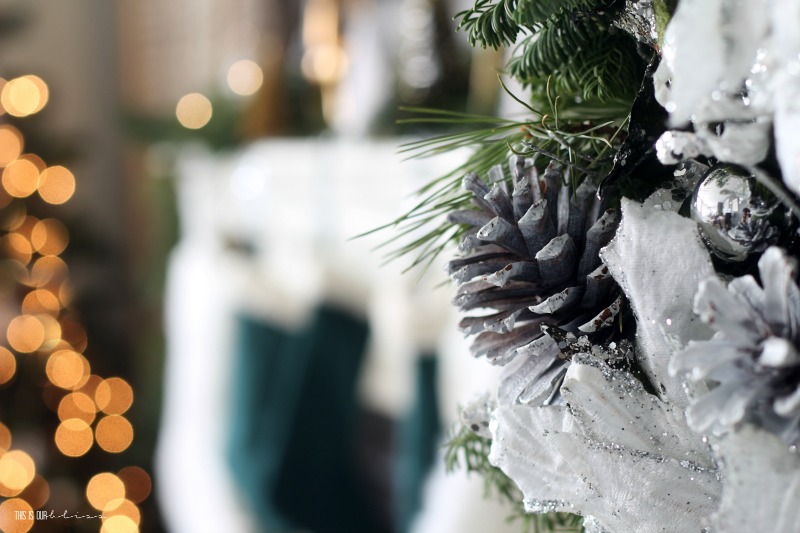 I thought I might miss having a healthy dose of red decor in here this year, but I really don't. I've gone all neutral in our Christmas Living Room and Christmas Dining Room before, but we've always had our red in full force in here. With all of the glitz, glam, sparkle and glitter, I think it feels festive enough without it this year.
Don't you think?
Metallics are always the answer.
Gold is my love language and at Christmas time, it comes out in full force!! It just feels right!
What about you? Do you prefer lots of classic red this time of year or do you use a non-traditional color palette?
Even though I am living in a house full of boys [4 to be exact :)], you'll always find glitz and glam around here. And yes, that means gold and lots of it and not just during the holidays 🙂
Now, I'm off to finish my shopping so I can finish my wrapping! I managed to do quite a bit of Black Friday and Cyber Monday shopping so those packages should start arriving soon! Wrapping is always one of those things I dread, but once I sit down and get after it, I end up getting it done pretty swiftly. It may or may not involve coffee or wine consumption in the process.
Aside from more shopping, I need to finish photographing the rest of the house to share with you this week and next! Like I mentioned, tomorrow I'll be sharing our Simply Green Christmas Kitchen and next week will be my Christmas Tablescape in the Dining Room.
The rest of the 12 Days of Holiday Homes Tour
But before we say goodbye, I want to send you off to my friend, Tammy of Pink Peppermint Design's tour. It bold and beautiful and I know you'll love it! Today is only Day 3 of the 12 Days of Holiday Homes so be sure to pop back over periodically. Links will be updated throughout for all of my friends participating this year. You don't want to miss a single stop!!
Thanks for allowing me to share our Christmas Family Room with you today!
11 Magnolia Lane | Dixie Delights | Summer Adams | Style House Interiors
Sincerely, Marie Designs | Sincerely Sara D | Just a Girl and Her Blog | Most Lovely Things
A Stroll Thru Life | A Blissful Nest | This is Our Bliss | Pink Peppermint Design
Southern State of Mind | Housepitality Designs | 2 Ladies & A Chair | Southern Hospitality
CitrineLiving | Setting for Four | The Pink Clutch
Maison de Cinq | The Heathered Nest | Home by Heidi | Rough Luxe Lifestyle
Less Than Perfect Life of Bliss | 11 Magnolia Lane (Amy) | Quarters One | Evolution of Style
If you're interested in anything from above, I've included shopping links for our Christmas Family Room for your convenience below. If I missed anything, feel free to comment on this post and I will respond as soon as possible.

Have a wonderful day, friends!!