I made it! Although I'm a week late, I'm still pumped to be sharing the final reveal of our Basement Guestroom! I've been working behind the scenes over the last month to get our Basement Guest Bedroom up to sniff and have been documenting my progress with Lemons, Lavender & Laundry, the host of the $100 Room Challenge and 30+ other bloggers along the way! If you follow me on Instagram and Facebook, then you know I was in NYC last week for the Better Homes & Gardens StyleMaker Event for the 2nd year and I just couldn't quite squeeze this Reveal post in before I left. Blogging had to take a backseat to packing all the things and getting the kids' schedules ready for mama to leave town! But today, you get to see it all!! The details on our Basement Guestroom Reveal is below.
Okay, so you remember the idea behind the $100 Room Challenge, right? It's a bit obvious, but I had a $100 budget to pull this room together. Here are the before photos to remind you of where we started at the beginning of last month.
BASEMENT GUESTROOM BEFORE
Freshly painted walls and doors, clean bedding and a dresser, but that was about all I could claim down there. Not exactly my idea of a fresh, vibrant and welcoming space! Until now! Keep reading to see the final pictures…
BASEMENT GUESTROOM PROGRESS
Here was my vision…
And here are some progress shots along the way…
Basement Guestroom Dresser Makeover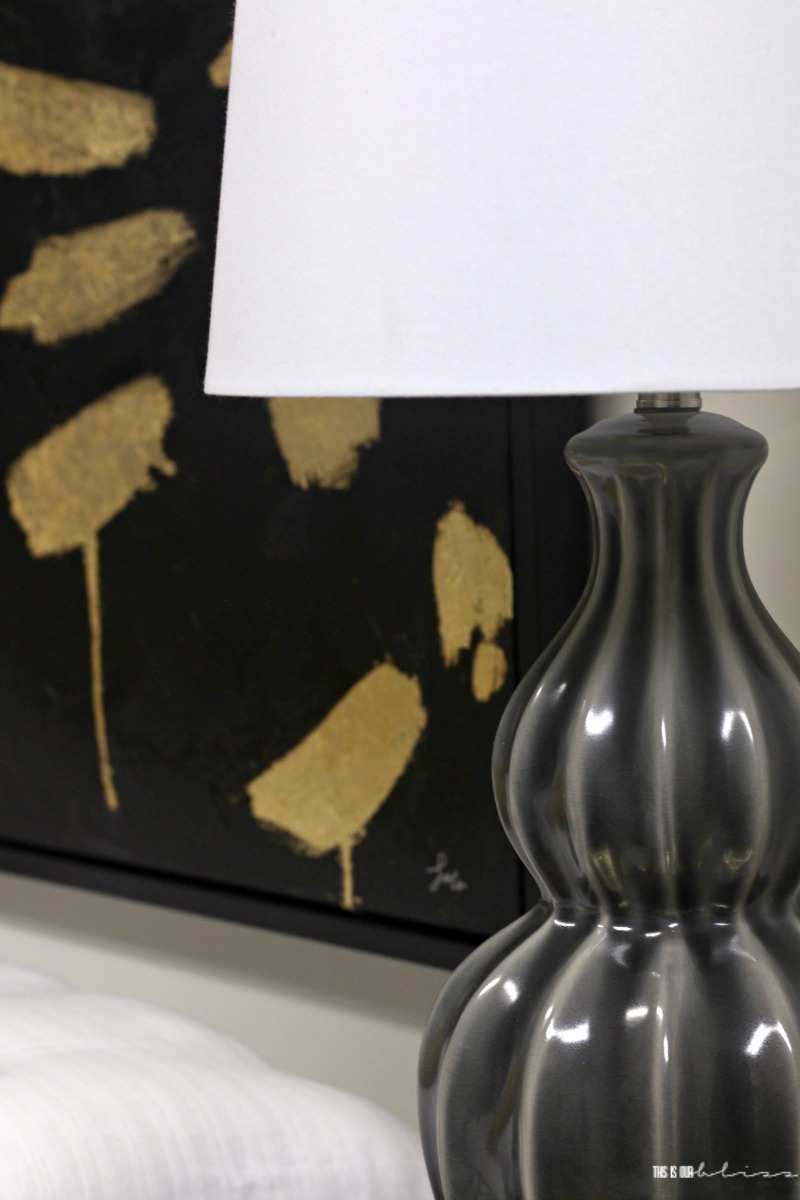 Basement Guestroom Styling Sneak Peeks
Ok, enough suspense? I know! It's killing me too! Here is where we landed…
So much better!
A couple key elements went into creating this transformation…
THE DRESSER MAKEOVER
This was one of those projects on my to-do list for years now. For those that have been reading for awhile, you may remember this dresser from the Guestroom Makeover in our last house. It wasn't new when I revamped the space in 2015 and it's actually been with us since our days in Indiana back in 2009-2011! The dark brown wood just wasn't doing it for me anymore and a lighter, fresher look was just what it needed. I used some leftover DecoArt American Satin Enamels in Smoke Gray.
I really love the gray and gold against the light walls.
The knobs were Hobby Lobby finds and I scooped up these cute gold ones for $1.98 a piece. I needed 12 so that was a chunk out of the budget, but well worth it in my opinion.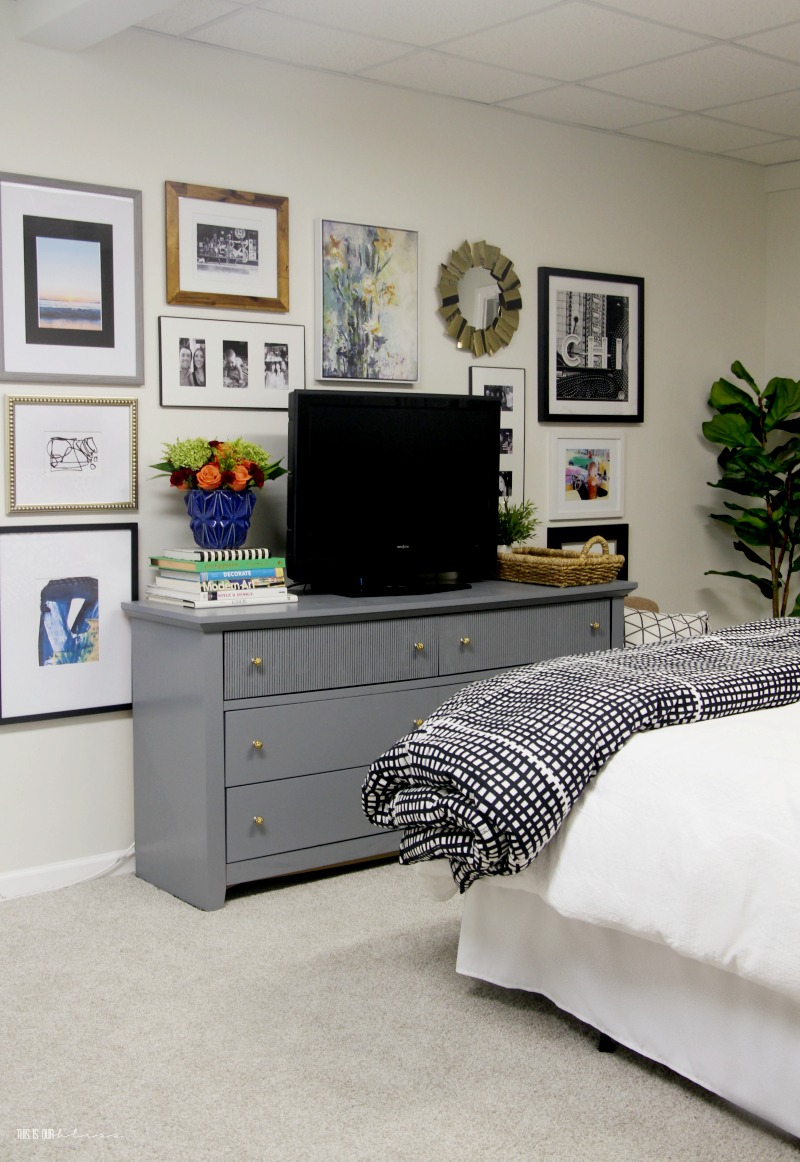 THE GALLERY WALL
Frames! So many frames around here! I've always been one to snag a few frames from trips to Goodwill or the thrift stores and when they're not on the wall, well, they just sit in storage. I have soooo many frames in every size imaginable and I decided it was time to put them on the wall.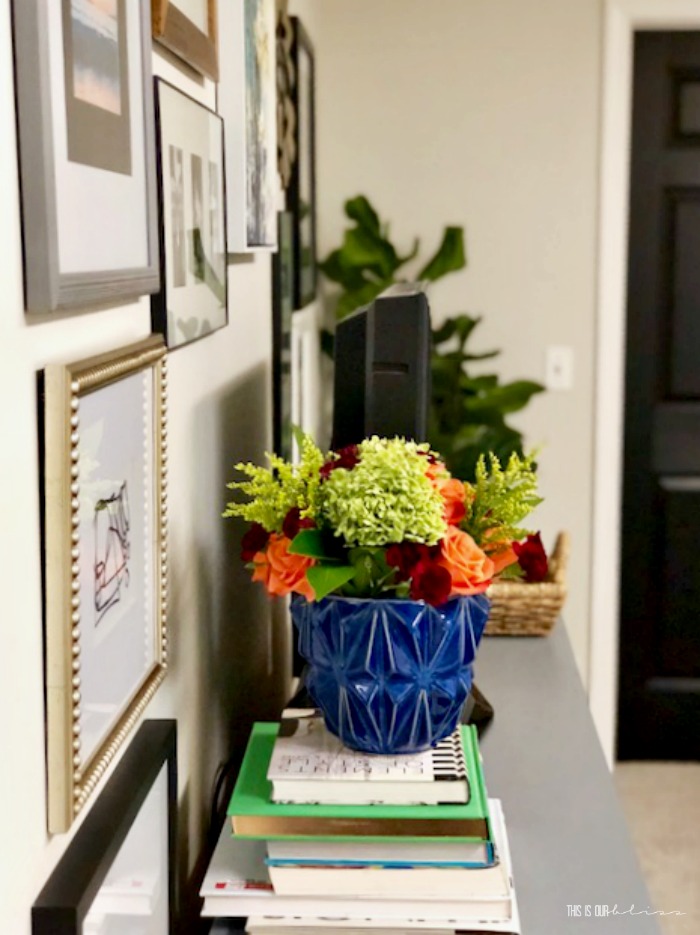 I grabbed a ton of variety out of the storage closet and set them aside. Once I decided on the art and photos that would go in the frames, then I began to make another pile of ones I wanted to hang up. Unfortunately, I don't have a tutorial for you on how I created this look on the wall. But basically, I started on the right side and worked my way to the left until there was pretty equal spacing between the frames and fairly equal amount of wall space covered on either side of the TV. I tried to mix in black frames, gold frames, white frames and then I found a wood tone and gray one that I added in also. Maybe one of these days I'll get all my tips in order and share a gallery post with you guys! I have pulled some ideas together for a Hallway Gallery Wall, A Uniform Gallery Wall with a Twist and A Simple Nursery Gallery Wall recently, but I probably have more I could spill! Stay tuned…
I left some of the art and photos in place and for the ones that I needed to fill, I turned to Etsy. I love scouring the site and stumbling upon gorgeous digital art prints. The ones you can purchase and then instantly download to print at home or send off to a photo print shop. They are usually only a few dollars which is perfect when you're working on a tight budget!
THE BEDDING
All I did here was add some fun pillows!
The white duvet cover was already on this bed, so I shopped my house and pulled the animal print shams from the upstairs Guestroom. They probably look familiar because I first bought them for the Guestroom Revamp in our last house when I was participating in my first One Room Challenge and then they moved with us and have remained a Guestroom staple as seen here, here and here!!
The gold pillows are from HomeGoods and I originally bought them this Summer to use on the Living Room chairs for Fall. I've been so in love with mustard yellow lately, I decided these pillows needed to leave my Living Room and be a part of my newest project – the Basement Guestroom! And the blue lumbar pillow with tassels was originally from HomeGoods and I've had it in our Family Room until now. You can see a glimpse of it it in my Blue & Simple Greens Summer Mantel post.
THE ART "HEADBOARD"
Like I said before, I have an embarrassing amount of frames in my hoarder closet collection and with the frames, I also have art and canvases. This large black and gold abstract piece was a clearance find last year at HomeGoods.
It's probably easy to understand why I would grab a sale item even if I don't know where I'm going to use it if the price is right. Right?! Well when I spotted the $40 red clearance sticker on this art piece, I grabbed it and stumbled my way up to the check-out. It was originally priced at $149 so I knew I found a steal! The kicker with this piece is if I didn't have anywhere in mind to use it, where would I keep it? I took it home and leaned up against the wall in the basement where it sat for over a year. When I started digging through art and frames to use in this space, I had an "ah ha" moment and held it up above the bed…it was thee PERFECT size to act as a faux headboard!
I didn't include this piece in the count because I've had it for so long. When you see something you love, grab it! Especially if it's on major sale. You never know when it might come in handy. It's so much easier to shop your house and then tear around town like a madwoman looking for "just the right thing".
THE SOFA
Ha yes! Hard to believe we had an "extra" sofa just lying around, but it's true! This blue sofa has been in the boys' playroom since the beginning of 2017 and while it served as a great place for all of us to hang out and play or read or chat, it was taking up a ton of room! I know other moms out there can attest to how much bigger the toys get as the kids grow. Their car tracks and train tables are better suited for the basement play area, so the playroom is eventually going to transition into an office for me. I talked about this project in my 2018 Master House Project Punch List. Removing the sofa was one of the first steps!
It's super lightweight so moving it to the basement wasn't a big deal and it fits perfectly in that little nook in the Guestroom. At first I was worried that it would just be in the way or make this room feel crowded, but since we've already housed our first guests in the "new space", the feedback was overwhelmingly positive! A place to sit down and put shoes on, set travel bags on or allow the boys' to come in and visit their Gigi and Papa while they're visiting. I'd say those are all wins!!
THE CHECKLIST
Now that you've seen the pretty pictures, let's look back at my original to do list and then at the most important piece of the puzzle – the cost breakdown!
Take pegboard down
purge & declutter
sell armoire or find a new spot for it
patch & paint walls
find new lamps
new curtain panels on the small window
bedding/pillows
add a headboard
luggage rack – decided not to buy one / use one
move sofa down or find bench
rug – decided not to buy one / use one
mount TV – decided to leave it on a stand on top of dresser
dresser makeover
TV gallery wall
style and decorate

wall decor
over the bed art / mirror
nightstand styling
dresser styling
One of my greatest joys in life is checking things off a list. I make one for the week. I make one for the blog. and the house. and errands. and groceries. You get the point! When I'm working on a space, it's no different. When I'm done with a room in our home, I get so much satisfaction when I see all the check marks! It really it such a sense of accomplishment, no matter how big or small the tasks.
THE BASEMENT GUESTROOM BUDGET
Paint for the dresser – $0 [leftover from another project]
Gold Knobs – $23.76 [regular price: $3.99, 50% off x 12]
Gallery Wall frames – $0 [had in storage]
3 printables – $18.16
Large Abstract Art – $39.99 [HomeGoods]
Orange pillow – $16.99 [all the rest I grabbed from around the house or in my stash]
Blue pot – $6.99
Faux plant – $0 [had it in upstairs hallway]
Gold mirror – $0 [already owned / originally purchased when I worked on the Basement Guest Bathroom, but it didn't fit! – similar here]
Other large items I previously had in the space – $0:

dresser
lamps [similar]
nightstands [they were my in-laws]
duvet cover and black & white comforter
Grand total = $105.89
Not too bad, huh?! Now I realize, the addition of the sofa and some of the larger wall pieces would have put me hundreds of dollars over budget if I wouldn't have had them here in storage. The lesson here though, is to use what you have! Grab it from another room, the closet, wherever! And also, if you spy a great deal when you're out shopping, you might be better off making the purchase right then and there even if you don't know where it will land versus needing something in a particular space and having to pay full retail price. Use this tip within reason, of course. I'm not telling you to buy everything in sight just because it has a red sticker on it!
The rest of the items however, I shuffled in from around our home! Books, vases, trays, frames and pillows were the accessories I pulled from other spaces. I played around with the styling in here until I had the exact look I wanted. Then whatever I didn't end up using, went back to it's original home. You'll find decor bouncing from room-to-room pretty often around here and that's how I like it!
See below for all the things!

If you need to get caught up on my Basement Guestroom posts from this $100 Room Challenge, see below!:
Week 1 | Before Photos + Mood Board
Week 2 | Random Updates
Week 3 | Dresser & Gallery Wall Sneak Peek
Week 4 | The Reveal
Thanks for following along with me this past month as I made-over our Basement Guestroom. It really was an exciting challenge to take part in and for a little over $100, I'm pretty much madly in love with our guests' new digs!
To see the other 30+ participants' $100 Room Challenge Reveals, click on the thumbnails below!