I've been so completely consumed by the soon-to-be little one's nursery I've been working on for the One Room Challenge these last few weeks that this month's My Dollar Store DIY post truly snuck up on me! This series is always a reminder that the month is coming to a close. Time is just going by too fast! May is almost here which means end of the school year is approaching and those sweet summer months are on the horizon! This month's theme is a DIY stylish accessory, of course made with dollar store supplies! I recently got a new beach hat and decided to give it a quick update. I made a versatile and interchangable accessory for it. Today, I'll show you how to make a pom pom band for your sun hat!
You may see me occasionally share super cute jewelry and accessories on the blog, Instagram or Facebook every now and then. Because I'm a Stella & Dot Stylist! We recently launched our summer collection and I purchased one of our new beach hats.
The hat is a great fit comes with 2 interchangable bands and both are darling, but I found myself wishing it had a pop of color. After catching a peek at the adorable "off duty" text on the inside of the hat, I knew PINK was what the outside was missing!
I scoured my craft stash and came up with a third look! A Pom pom and stripe beach hat band using an old spool of black and white striped ribbon and leftover hot pink poms from this Dollar Store DIY Napkin Ring project from last year!
This quick hat update took maybe 5 minutes – no joke! Here is what I did…
SUPPLIES
[*Affiliate links are used in this post.]
small [1 inch] piece of elastic
scissors
hot glue gun & hot glue sticks
beach hat [mine is S&D, but you can grab one from Target and I've even seen them at Dollar Tree in years' past!]
DIRECTIONS
1 | Measure the circumference of your hot and cut your ribbon to that length. Mine was 22.5″.
2 | Lay your ribbon down and place your poms along the ribbon with desired space in between each one. I decided to use 2 black, 1 hot pink, 2 black, 1 hot pink, etc. as my pattern and they were spaced approximately 1″ apart.
3 | Place a small pea-sized dot of hot glue down and place your pom pom on top. Work your way down the entire piece of ribbon.
4 | Take your small elastic piece and run a small line of hot glue down on the edge. Place one end of your ribbon on top. Then run another line of hot glue on the opposite edge of the elastic and loop the ribbon around to place the opposite end down on top.
5 | Finally, take your band and gently stretch it around the top of the hat. I suggest making sure your elastic is at the back of the hat. Grab your hat, toss it on your head and venture out into the sunshine!!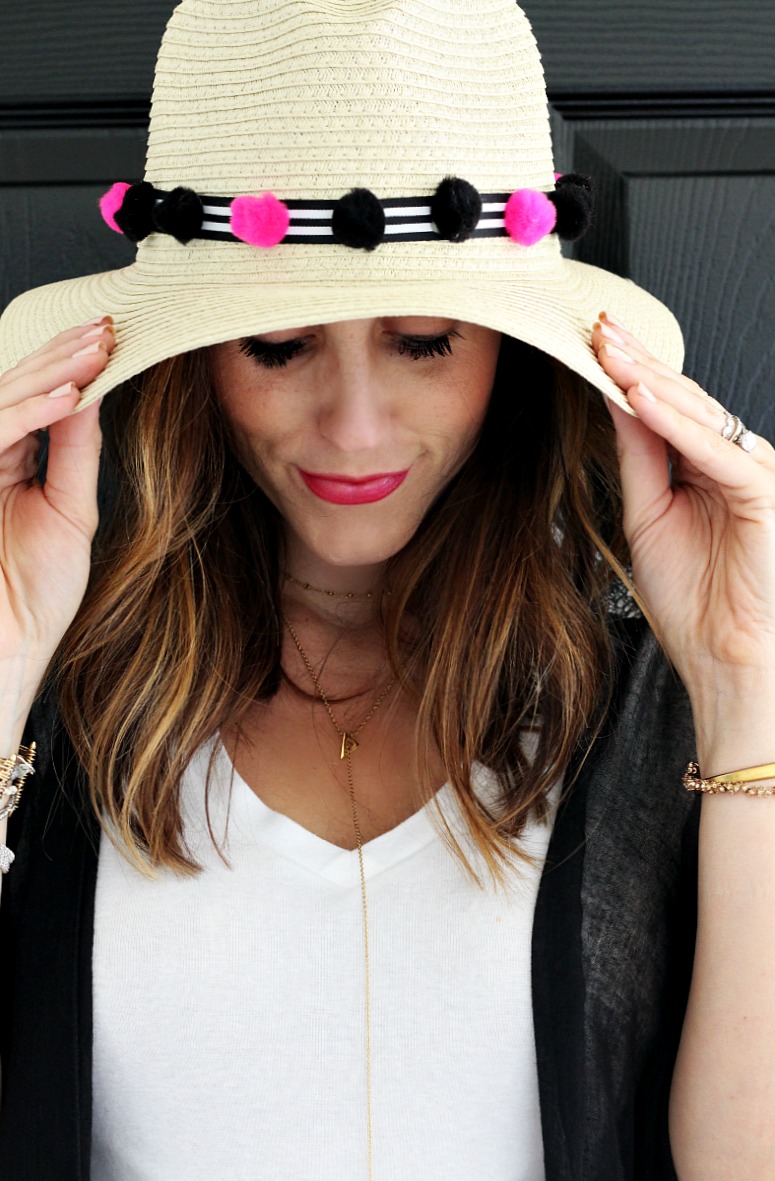 Again, all of FIVE minutes!!
This little pom pom band for my sun hat has me dreaming of all things summer! Such a bright and fun hat accessory!
SUNGLASSES | HAT | SWIMSUIT TOP [SIMILAR HERE AND HERE] | COLORFUL FRINGE CLUTCH
I'm already scheming up other ways to transform my new hat by whipping up more bands for my sun hat! How cute would it be to color-coordinate with your swim suit or beach bag?!!
Now, head on over to see what other stylish accessories the rest of the crew crafted up this month!
This is our Bliss
Southern State of Mind
PMQ for Two
Hunt & Host
Creative Ramblings
You can see the rest of my posts in the My Dollar Store DIY series here: