Happy New Year! I hope you all had a wonderful night ringing in the new year doing all the fun things! In our house, it was a kiddie countdown at 8 and then a nice dinner after the boys went to bed and then finally Netflix on the couch! Today, I am so so excited to introduce our newest room project with you guys as part of the New Year, New Room Refresh Challenge hosted by Stephanie of Casa Watkins! I haven't talked much about this project because it sort of…just happened! Read on for the before photos and mood board for our middle's Playful & Pattern-Happy Big Boy Room!
[*Affiliate links are used in this post.]
Let's chat about the Big Boy Room Project
As I begin working on this challenge [can you believe this is year number 4 of the New Year New Room Challenge?!] I am questioning two things…
How have I pulled off refreshing, or in some cases [like our kitchen makeover last year], totally revamping a space RIGHT AFTER CHRISTMAS?
How have I done an entire room in 4 weeks?!
Yes, I am admittedly nervous about tackling this room in such a short period of time but our middle guy needs a space of his own and I'm really looking forward to giving him one. When we created our neutral nursery for baby #3 last Spring, the plan was to move the middle into the biggest's big boy room and create a shared space. A few months went by with the boys sharing a bed or the middle on the floor on a sleeping bag because we simply couldn't pull the trigger on whether or not to do a bunk bed, loft bed or forgo the full bed altogether and do two twins. I swear he loved that sleeping bag ha! Until one day this Fall, he got a bad cold and was up coughing all night so we moved him into the upstairs guestroom. He pretty much moved in after that night!
Creating this big boy room for him just gives us the extra push to fully move my office onto the main floor and move the boys' playroom to the basement! Lots of moving parts but that's sort of how we roll around here.
Now, let's take a look at the before photos and then I'll show you my plans.
THE BEFORE
The ugly truth!! Ugh! A few things to note…
Yes, there is stuff everywhere.
Yes, that is my wedding dress in the closet.
The desk is a disaster and a horrible work space.
The ceiling fan needs to go.
The bed is now a far cry from how it used to look in the guest room bedding refresh post or the Summer House Tour images below.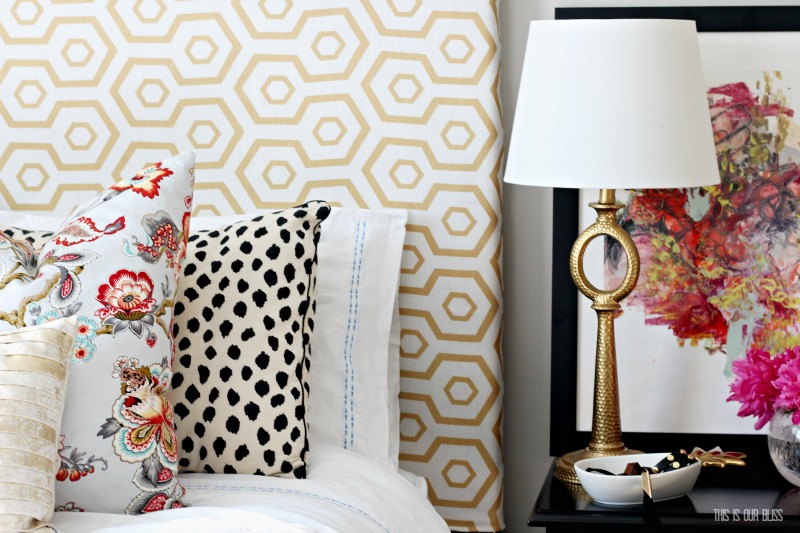 And now for my favorite part! My vision for the design of the space can be seen in this mood board below.
PLAYFUL & PATTERN-HAPPY BIG BOY ROOM MOOD BOARD
black ceiling fan | black & white dot curtains | transportation number art | headphones pillow | gray rug | white dresser | black + gold coat rack | gray nightstand | green animal headboard | round wooden mirror | "Where the wild one sleeps" pillowcase | gold crown trinket dish | blue geometric pillow | black gold table lamp | dinosaur watercolor art | dinosaur nightlight
THE BIG BOY ROOM TO DO LIST
purge and declutter
closet refresh [including door and wire shelving removal]
take desk and computer out
rearrange bed position
replace ceiling fan
wallpaper accent wall
install wall sconces
determine book shelf / storage [possibly furniture makeover]
reupholster fabric headboard
get new rug
find a nightstand
purchase new lamp
bring dresser in from the biggest's room
swap out dresser hardware?
new laundry hamper
update the bedding
pick out new pillows
hang wall art
style and decorate the space
miscellaneous projects:

________________
________________
I've got some work to do! I've started ordering some samples [wallpaper and furniture paint] and various other pieces and will be making the bulk of the design and decor decisions in the next 1-2 weeks. Be sure to stop back each Tuesday to see how the room progresses!
Here are the items seen in the mood board with clickable shopping links for your convenience.

It's New Year's Day and I'm off to get busy on this room and spend some time with my crew! You know the drill. I'll be back each Tuesday this month with an update and then the reveal will be shared on the very last Tuesday of January! Don't forget about my friends who are refreshing a space this month, too. And if you want to join in, please feel free to link up with us each week sharing a space in your home that needs a little love in the new year. Big or small changes are welcome. Every little bit can help inspire 🙂
Casa Watkins Living // Domicile 37 // House Homemade // Iris Nacole // Monica Wants It //
Jeweled Interiors // Pocketful of Posies // This Is Our Bliss // Up To Date Interiors