Remember how I promised I would start sharing more house projects around here in the coming weeks? Well, today is week 1 of a new project! The start of a new space is always the most exciting for me, well, second to the reveal. Today I'm going to share the before photos and mood board for a new space I'm going to be working on over the course of the month. Sounds pretty standard right?! Not exactly…the kicker? I have to makeover the space for $100 or less. Yes, it's another round of the $100 Room Challenge and this time I'm going to be wrapping up and putting the finishing touches on the Basement Guestroom!
If you're new here or missed the last $100 Challenge I took part in, then head here to take a peek at the Powder Room I refreshed last September during my first shot at the $100 Room Challenge!
It really is just that. A challenge.
This guestroom has come a long way since when we moved in. Here it is how it looked back in the Summer of 2016.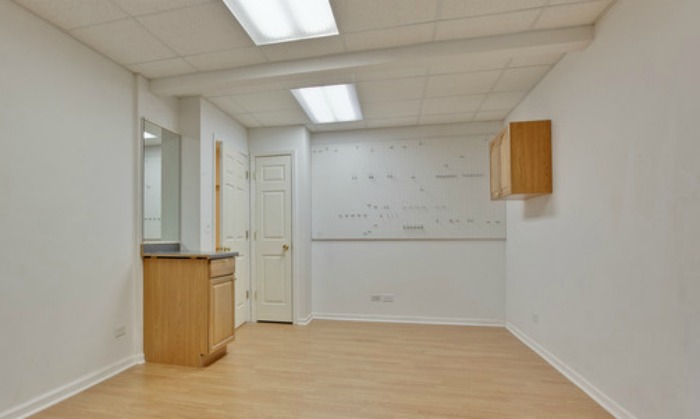 Nice and cozy, right?!
The previous owners must have used the space as some sort of workshop. With the frequency of visits from out-of-town family and friends, when we moved in we knew we wanted another guestroom option in addition to the 4th bedroom on the 2nd story. We plopped some furniture in and called it a day. It became another one of those spaces that sits around just "good enough". I'm pretty sure we all have rooms like this. Just finished enough to allow guests to comfortably stay there for a night or two. I mean, we had freshly painted walls, new carpet [thanks to the flood last year], a bed, clean sheets and a TV. What more could one want? Ha! Plenty, actually.
Here is how it looks in it's current state. Not so dreamy if you ask me.
The fan you see in the corner is still sitting there from when we spent 9 nights in the basement when our air conditioning went out this summer. The fluorescent lights in the ceiling? Well, unlike when I was able to replace them in our recent Kitchen Refresh, I'm not sure I'm going to be able to do anything about these for less than $100, but I'll be sure to spruce up everything else!
The thought of being able to offer our guests a space to stay in that feels like a casual, comfortable and chic retreat sounds wonderful! Something I've always wanted to be able to do, but never took the time [or wanted to fork over the funds] to do it. But this challenge came around again and I knew it would be the perfect time to make it happen. Below is the mood board I created to illustrate my vision for the Basement Guestroom Makeover.
[*Affiliate links were used in this post.]
gray lamps | gold mirror | dalmatian print shams | blue geometric lumbar | mustard pillows | white duvet cover | rug | fiddle leaf fig | art print 1 | art print 2 | curtain panels | blue + gold bench | gray dresser | hamper | nightstands
Much better! Now, of course if I bought everything you see in the mood board above, I'd be well over a couple thousand dollars and climbing. But the beauty of the challenge is being able to pull off the look of a "new" space without really getting many "new" things at all. Only $100 worth. The rest of the items will be pulled from storage, other rooms, thrift stores, etc. I'll be getting creative and putting my DIY and crafting skills to good use! It's certainly been a little while.
So, what is it exactly that I'd like to get done during this challenge? You can see the list of to-do items I created at the beginning of the year in my 2018 Master House Project Punch List and then here is the more updated list I shared with you guys in my mid-year update:
BASEMENT GUESTROOM MAKEOVER CHECKLIST
The items crossed off were the ones we slowly worked on from January to May. The rest is what we hope to finish during the $100 Room Challenge.
Take pegboard down
purge & declutter
sell armoire or find a new spot for it
patch & paint walls
find new lamps
new curtain panels on the small window
bedding/pillows
add a headboard?
luggage rack?
move sofa down or find bench? [need something for that nook]
rug
mount TV?
dresser makeover
style and decorate

wall decor
over the bed art / mirror
nightstand styling
dresser styling
My plan is to infuse blues, greens and that mustard yellow into the space full of black, white and grays already there. In my head, I have visions of being able to use a few key pieces I'm pretty sure are stored away somewhere that were used in our last house and just haven't made their way out yet! One pro about taking on this challenge is being able to find hidden gems in my own home, but the con is having to deal with all those things that I once thought were "gems" and now need to get tossed into my backend and head straight to Goodwill!
I hope you'll follow along with me each week on Wednesdays as I post progress on this space and then the Reveal on September 26th! Wish me luck – this is going to be tricky. And now you can check out all of the other participants' Week 1 posts below:
If you need to get caught up on my Basement Guestroom posts from this $100 Room Challenge, see below!:
Week 1 | Before Photos + Mood Board
Week 2 | Random Updates
Week 3 | Dresser & Gallery Wall Sneak Peek
Week 4 | The Reveal
Thanks for reading and I'll see you back here soon!