Spring hasn't officially arrived yet, but it certainly has in my little corner of the internet! Yesterday, I shared my Marble Easter Eggs with you and today I am back with another DIY Egg project. And you guys, these are good!! I had this vision for a few weeks and decided I would bring it to life for this season's My Dollar Store DIY post.
What would be better than a black and gold egg? A Leopard, yes, LEOPARD PRINT black and gold egg!! They are chic and were so simple to make! Today, I'm sharing a step-by-step tutorial for how to make Leopard Print Easter Eggs.
If you've been around here even for a little while, you've probably picked up on my obsession with all things leopard. I've shared 13 ways to add a dose of leopard into your wardrobe and leopard has snuck it's way into all of my style posts. Shoes, clutch, belt, you name it! Since it's such a hot pattern right now I thought it would be so fun to try making my own "spots" on an Easter egg for a chic and glam twist on traditional pastel eggs. Kind of fun, right?!
I perused Pinterest for a bit looking for some basic guides for how to draw leopard print. I really could have just grabbed any item from my closet or the two pairs of leopard booties at the back door, but I thought I'd see what I could find in terms of a tutorial. I landed on this how to make leopard print cookies pin and sort of modeled my spots off of it!
Here is what I did!
HOW TO MAKE LEOPARD PRINT EASTER EGGS
1. Gather supplies.
craft Easter eggs
Black Sharpie
gold glitter glue
[All of my supplies were from Dollar Tree.]
2. Draw the black spots using 4 basic patterns.
Alternating each one and working your way around the egg.
3 spots grouped together [2 bigger and 1 smaller]
2 spots connected like a horseshoe
2 curved spots side-by-side
a single spot as a filler
I simply made small swirls with the Sharpie instead of an outline and then filling it in. I didn't want any harsh lines. The edges of your spots absolutely do not have to be perfect. You really can't mess them up!!
Here you can see how I spaced out the patterns. The single spots are randomly throughout as a filler if I didn't have enough room for any of the other 3 patterns.
3. Next up is the glitter!
I filled in the white space in between each of the spots in each pattern. I did one side of the egg and then set it down to dry. After waiting 1-2 hours, I tested to make sure the glitter was dry and then filled in the other side of the egg.
4. You're done!
I placed mine in a small glass dish and then set it on top of a couple coffee table books.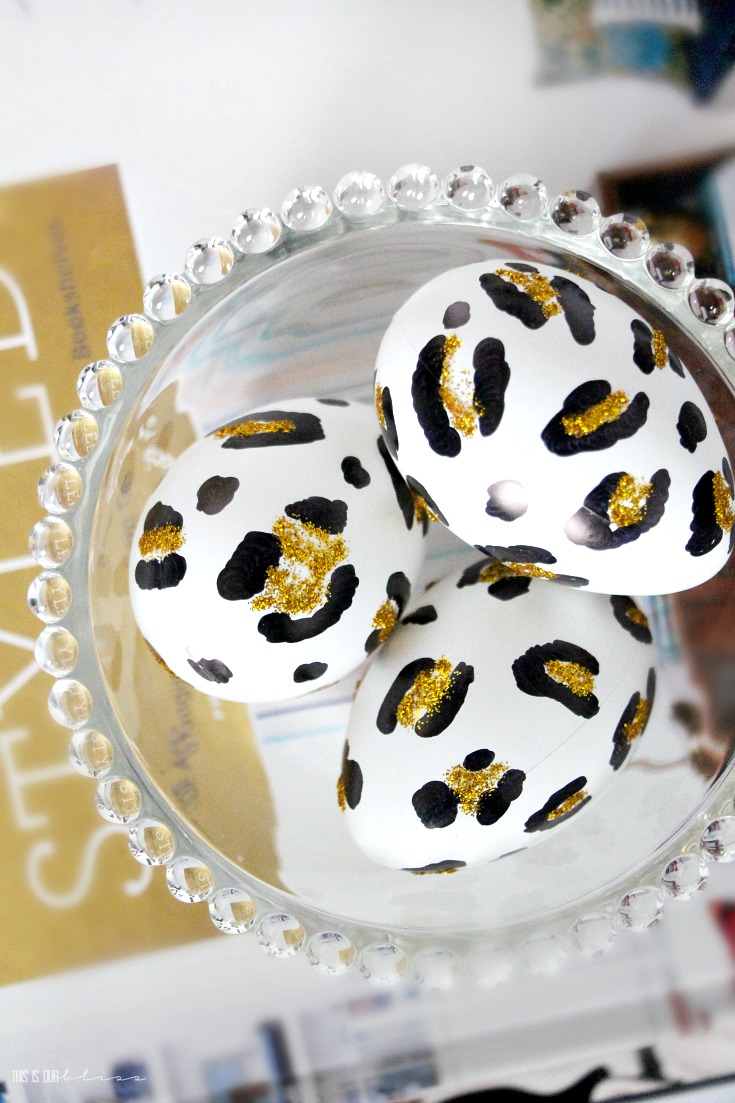 These would be so cute to set on your entryway table or even on the kitchen table or island.
I originally wanted to use gold puffy paint so that the spots would be 3-D. Since I hadn't worked with the glitter glue before, I wasn't quite sure how it would end up looking. It started out raised and puffy, but as it dried it pretty much flattened out to plain gold glitter.
I only made 3 eggs, but I would have made a dozen! These are definitely an ultra-chic addition to the rest of our Spring and Easter decor. Although I did pick up that snazzy little gold bunny a couple years ago and these eggs look great sitting next to him 🙂
These leopard print eggs truly make my heart sing! I am absolutely positively in love with them!
If you are, too, then don't forget to pin for inspiration later:
For more Spring inspiration, head down to see what the rest of the My Dollar Store DIY participants came up with this season! They are sure to put you in a Springy mood!
This is our Bliss | My Thriftstore Addiction | Red Couch Life | Two Bees in a Pod | Creative Ramblings | Redhead Can Decorate | Create and Babble | Southern State of Mind | Knock it Off Kim | The Heathered Nest | The Organized Mama
For more Spring Inspiration, click any of the images below!
You can see the rest of my posts in the My Dollar Store DIY series here: